Why Norwegian Cruise Line Is So Much Fun
Last updated on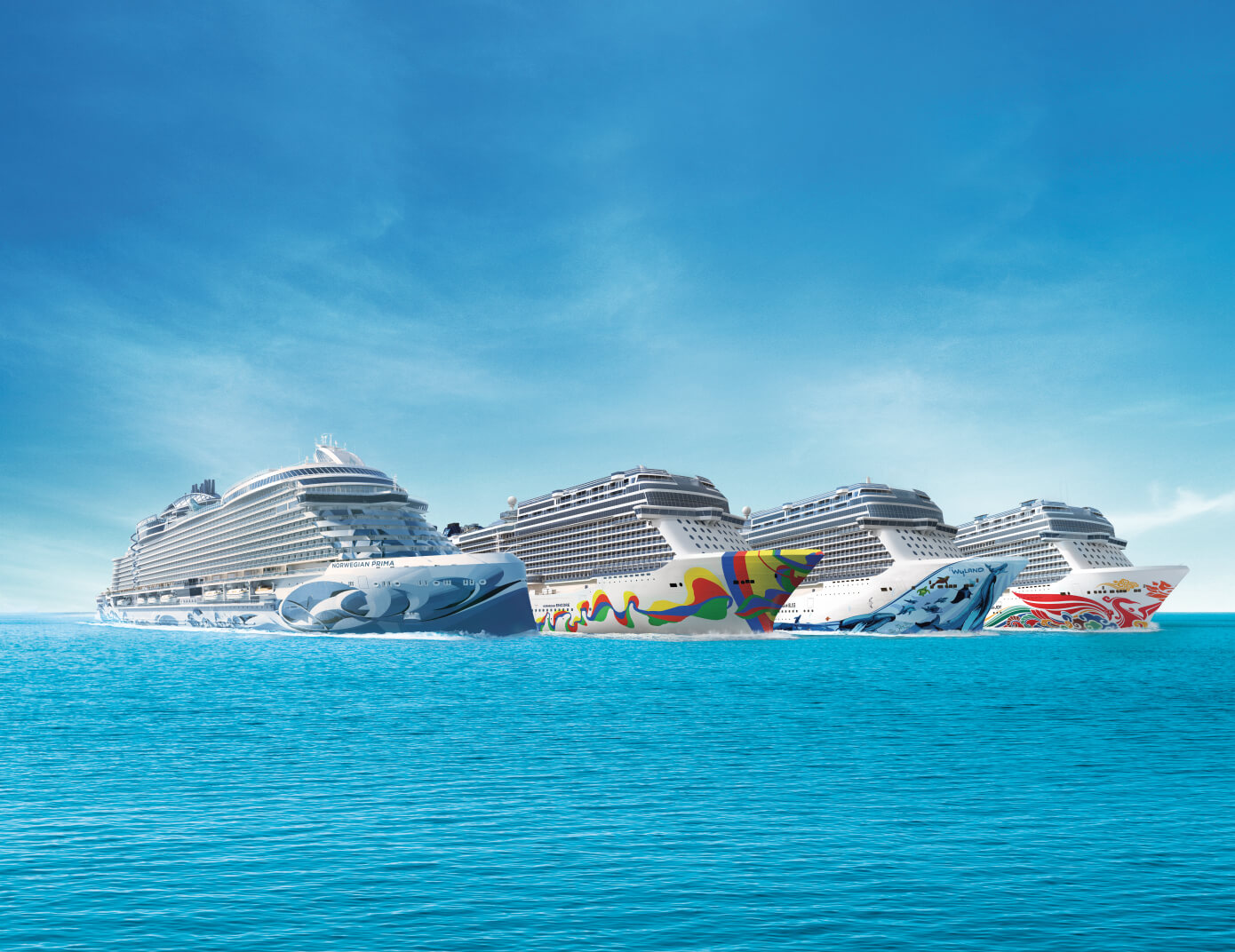 There are many cruise lines in the world, but Norwegian is one of the very best. The company has a fleet of sixteen ships and it offers itineraries in various regions of the world, lasting between just one and almost 50 days. One of the main reasons why sailing Norwegian is so much fun is its renowned "freestyle cruising" concept.
On Norwegian cruises, you'll experience a laid-back atmosphere and a fun, casual ambience. There are, for instance, no pre-arranged dining hours and there is no required dress code, which makes your time on board all the more enjoyable and relaxed. The cruise line's sheer variety of entertainment options and family and kid-friendly activities only adds to its appeal. Below, you can find an overview of the numerous reasons why sailing Norwegian is so much fun.
Mouthwatering Food
From basic burgers to four-course meals with wine pairings, the selection of food on board is overwhelming. If you want to dress up, you can do so. If you'd like to dress down, that's possible as well. Totally in line with Norwegian's "freestyle cruising" concept, its restaurants are casual and flexible. You're not required to wear dress clothes; there are no fixed dining times.
All of Norwegian's ships offer elaborate menus in up to three main dining areas. Additionally, there are several cafés, a help-yourself buffet, grills and take-out eateries. There are Asian fusion restaurants, seafood bars and barbecue places. No matter where your cruise takes you, you'll find pretty much every worldly cuisine on your ship.
Award-Winning Entertainment
The entertainment offered by Norwegian on their cruises is phenomenal. There are musicals, acrobat shows, circus acts, music performances, magician shows, comedy nights, dances and plays. Even Broadway and Cirque du Soleil shows are performed in the many event spaces aboard Norwegian's ships.
Comfy Accommodations
No matter your budget or accommodation requirements, you'll find something that suits you on a Norwegian ship. Accommodations range from Solo Studios and Inside Rooms to Mini-Suites, Spa Staterooms, Penthouses and Suites.
The fanciest rooms come with complimentary champagne, 24-hour butler and concierge services, and other goodies. Guests can also enjoy 24-hour room service. Each type of room has its own special features and perks, making a cruise with Norwegian suitable for all.
Adrenaline-Fueled Excitement at the Outdoor Sports Complex
Norwegian's multi-level Sports Complex offers people of all ages the chance to conquer their fears, enjoy an active afternoon and play a competitive game. Adrenaline-seekers will have a blast scaling the ropes course, walking the plank or zip lining while less adventure-minded guests can play some mini-golf, go bowling or play basketball.
Bars, Lounges and Nightclubs
With up to 22 bars and lounges per ship, the fleet of Norwegian surely offers you plenty of opportunities to party and mix and mingle. Each place has its very own vibe and theme, from the ultraviolet energy of the Bliss Ultra Lounge to the pool tables of the English pub and the chilled drinks at the Ice Bar.
Every possible drink is available, from Martinis and Mojitos to whiskeys and beers. You can relax with a cocktail at one of the pools, nurse a drink at the awesome 5 O'Clock Somewhere Bar (on Norwegian Escape) or sip champagne at one of the fancy lounges. Party people can dance the night away at the on-board nightclubs.
Well-Equipped Fitness Centers
In addition to the Sports Complex and the Aqua Parks, the ships of Norwegian have state-of-the-art fitness centers. If you've indulged in an extensive meal the night before, you can burn those calories on the treadmills and ellipticals. There are also various free weights for you to use and TRX classes to take. If you're into yoga or pilates, you will find facilities and equipment for that as well.
Fun in the Sun in On-Board Aqua Parks
Arguably one of the most popular facilities aboard the Norwegian fleet is the Aqua Parks. Cruises often take place in exotic destinations with warm weather and there's nothing quite like spending the day in or next to the water on a ship.
Norwegian offers its guests a wide variety of water-based activities and facilities. From splash parks to hot tubs, from swimming pools to tall waterslides, the water attractions on a Norwegian cruise ship will keep you occupied for days.
Ultimate Relaxation in Spas
The spa services of Norwegian have been voted the "World's Best Cruise Spa" by Worlds Spa Awards, which is a statement that's hard to ignore. On-board spa treatments are plentiful—there are more than 50 of them, ranging from hot-stone massages to facials, acupuncture and salt treatments.
Wide Variety of Destinations
Norwegian sails to all corners of the earth. You can go on cruises to the Far East and to Australia and New Zealand. Popular trips include those to the Caribbean and Bermuda. Also available are cruises along the New England and eastern Canadian coasts, as well as to the wilds of Alaska. You can traverse the Panama Canal on a cruise ship, make your way up the Pacific Coast of the United States or explore the Hawaiian islands. In Europe, Norwegian travels around the Mediterranean and through the epic fjords of Norway.
It's this amazing number of superb cruise destinations that makes Norwegian such a fantastic cruise line. Really, no matter which major destination you want to visit, if it has a coast, you can get there with Norwegian.
A Fantastic Waterfront Promenade
The groundbreaking quarter-mile waterfront promenade is only present on Breakaway and Breakaway plus ships from Norwegian, but this is precisely what sets this cruise line apart from the rest. These unique promenades allow you to stroll along the edge of the ship and overlook the ocean. Along the way, you'll find restaurants, bars and ice cream parlors.
These features are truly impressive, whether you like cruises or not. It's remarkable that it's possible to find all these amenities aboard a ship. If you're looking for a world-class cruise line to cater your next ocean adventure, Norwegian Cruise Lines should be the first place to check out.
Family-Friendly Activities
Going on a cruise with Norwegian is a great thing to do as a family. The company prides itself on its kid-and family-friendly facilities and activities. Every age group is cared for and your kids will have a blast during your vacation. They can learn how to juggle at the Circus School, decorate cupcakes, play dodgeball, go to fun themed parties and much, much more.