Many things will shake the foundations of the cruise industry when Virgin Voyages' Scarlet Lady debuts in 2020. From its adults-only concept to the "Athletic Club" lounge and "The Manor" nightclub, there is plenty to look forward to. What's arguably going to excite you most, though, is the numerous options for dining on Virgin Voyages.
Industry-Altering Eating Experiences on Virgin Voyages
Unlike pretty much every other large cruise ship currently sailing the seas, the Scarlet Lady will have no main dining room. There won't be any buffets, dress codes or preset dining times, either. Dining on Virgin Voyages is all about freedom and quality, a combination that's hard to achieve. Of course, Virgin does this with class.
This is Virgin, after all, a company that has always liked doing things differently, in their own way, and with unfaltering success.
At the Scarlet Lady, all eateries are designed to delight sailors, as Virgin calls their passengers. Their mission and goal is to bring together the best cuisines of the world's top cities, offering world-class cuisine on one cruise ship.
They realize that food is not just a side note, but an essential part of every day. A great culinary experience should no happen just once during your voyage, but literally three times a day.
This is why Virgin has expanded its already-impressive "Creative Collective" of renowned designers to include the fantastic AvroKo Hospitality Group. As such, Virgin will be able to pinpoint the most exciting and progressive culinary trends on the mainland and bring them aboard their ship. You can expect surprises around every corner, at every table, in every venue.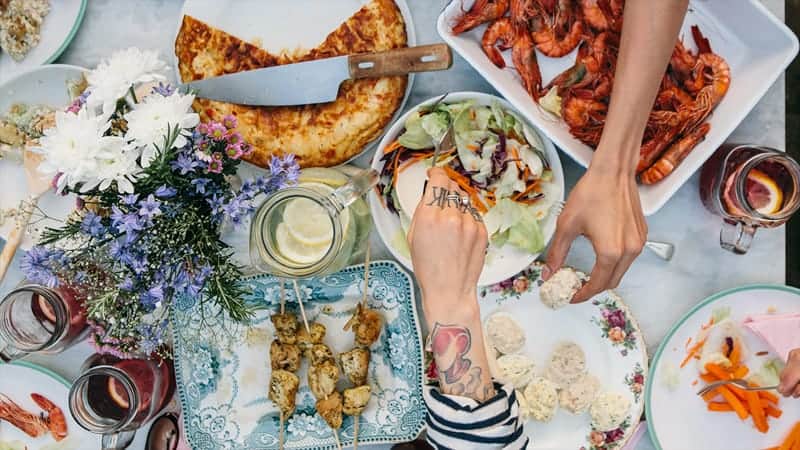 Dining on Virgin Voyages: Venues
Dining on Virgin Voyages is not just about "what" but definitely also about "how". Experience is the key word here—experience in the sense of award-winning chefs, as well as offering sailors an unforgettable dining experience.
And with 20 different dining venues on the Scarlet Lady, you won't have any lack of options. In fact, you might even book a second cruise to try all the places you missed the first time.
Virgin says about this: "You don't eat at the same place every day of the week, so why should you have to do it while on holiday?" They are, of course, absolutely right!
And if that's not exciting enough, every venue also has its own bar. Having a pre-dinner cocktail or kicking back with a Scotch afterward has never been so convenient.
Razzle Dazzle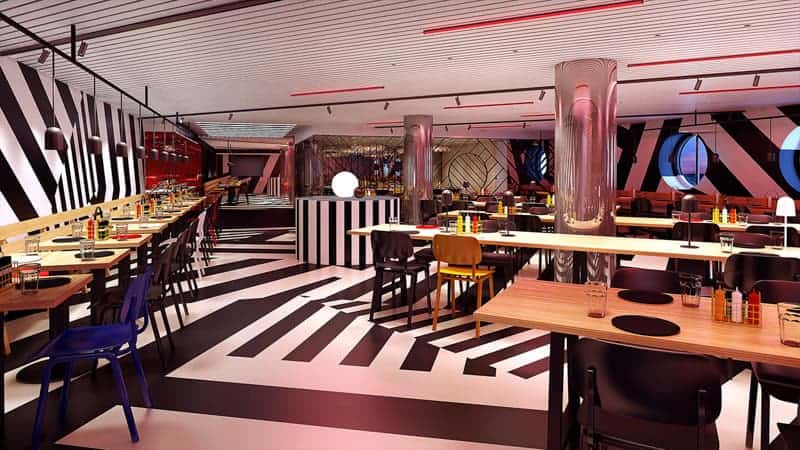 Eating out, as fun as it can be, is hardly ever exceptionally exciting. That, however, changes at Razzle Dazzle, probably the most spectacular dining venue on board the Scarlet Lady. Hanging out there is simply an assault on your senses, its walls painted in either vibrant reds or black and white stripes, which are almost an optical illusion.
Although this is a "vegetarian-forward" restaurant, you'll also find meat dishes on its menu. To make things even more interesting, this is the setting of the Drag Brunch. Taking over Razzle Dazzle two days during each voyage, dashing drag queens put on a show you won't soon forget.
Naughty and nice, that's what this uniquely quirky restaurant is.
Wake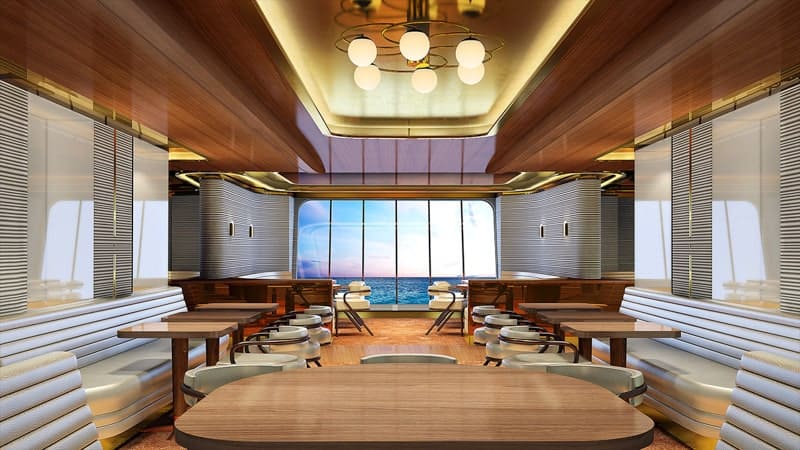 At the aft of the ship, Wake is dining on Virgin Voyages at its supreme best. Offering diners an awesome view of the back of the ship, this is where you go for world-class steak and seafood dishes. To make it even more classy, a sommelier is ready to help you decide the perfect wine pairing.
Geonbae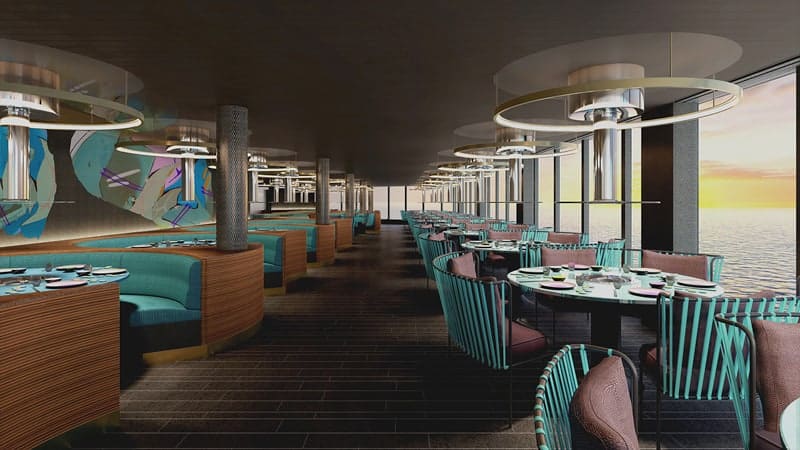 If you're into Korean food, Geonbae will tickle your taste buds in a way you never thought possible. Serving some of the best Korean barbecue on any cruise ship, this is also where you can have an authentic Korean drinking experience. Where else would you go for that? Geonbae means "bottoms up" or "cheers" in Korean. The first round of soju shots is on the house!
The Pizza Place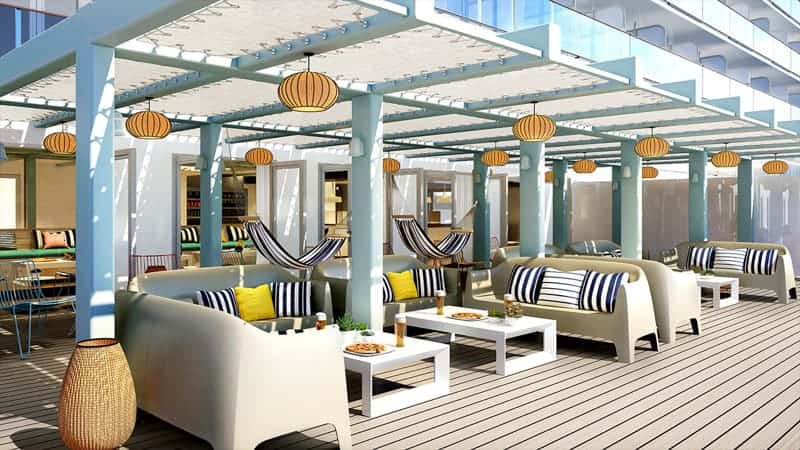 Who doesn't like a freshly made pizza? Wander over to The Pizza Place—sometimes all a name needs is simplicity—and order a custom pizza. You can design your very own pie, from the cheese and dough to the toppings. Grab a seat and watch the talented pizza chefs create your ideal pizza right before your eyes.
The Galley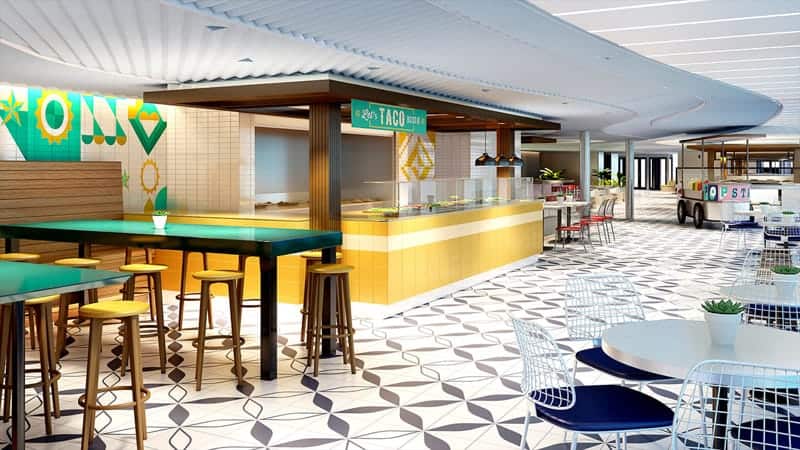 Feeling a bit hungry during the day, in between main meals? Head to The Galley, a made-to-order food market. Remember that there are no buffets at the Scarlet Lady. This is what you get instead. Cooked to order, fresh, high-quality and varied. In this area, you'll find eight food carts and shops, all of which have their own specialty. Whatever you feel like—noodles, a salad, soup, tacos, a pastry, sushi, a burger?—will be right there waiting for you to devour it.
Extra Virgin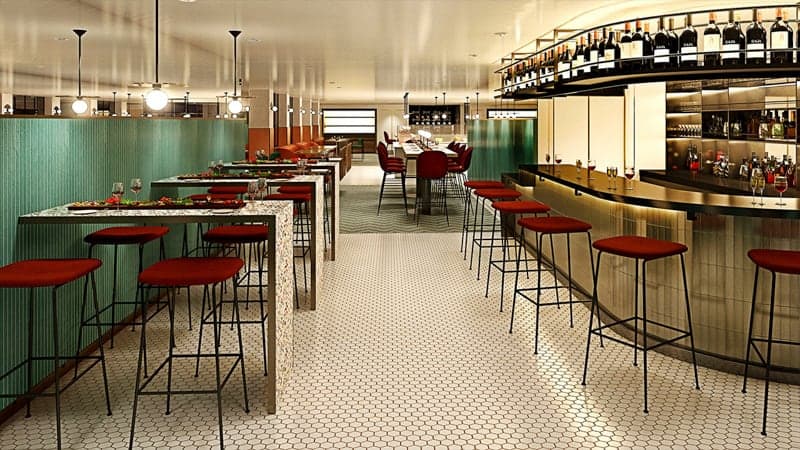 Every self-respecting cruise ship has to have its own Italian restaurant. At the Scarlet Lady, that's Extra Virgin, a cozy dining venue inspired by the typical Italian trattorias. The pasta is hand-made daily, while the wine selection is nothing less than exquisite. Additionally, if you're craving an aperitif, this would be the place to. Extra Virgin has a daily aperitivo hour, complete with small plates and drink specials.
The Test Kitchen
Chefs have carte blanche at The Test Kitchen, which can be best described as a culinary laboratory. Experimental cuisine is king here, all ingredients hand-picked by the chefs and indicated on the menus. You won't really know what the result of those ingredients will be, though. Just order and be blown away.
Pink Agave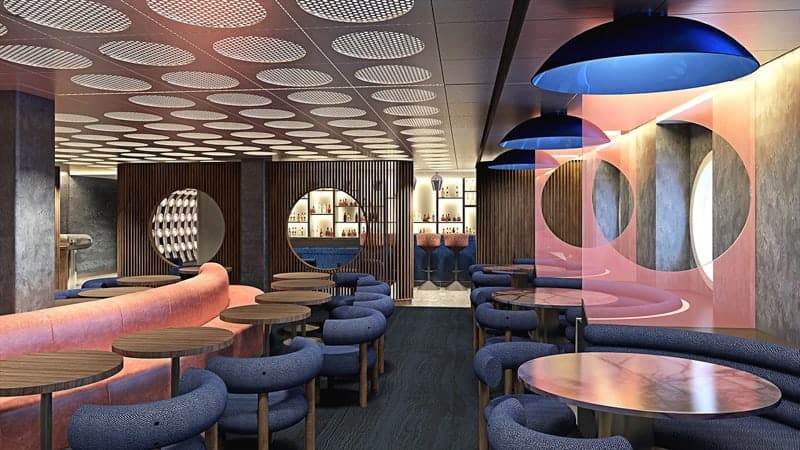 If all that variety didn't make choosing a place to go dining on Virgin Voyage hard enough, there's also a Mexican option. At Pink Agave, you'll find refined and high-end Mexican food prepared with fresh and no-frills ingredients. Grab a margarita, sit back and enjoy an explosion of flavors in your mouth.
Images in this articles are courtesy of Virgin Voyages.