Speak With One of Our Cruise Experts 1-800-498-7245
Always Available
Travel experts available 24/7
1-844-589-8791
Free cruise planning and expert advice
The Best Prices
We won't be undersold, ever
Ready to Book? Get an unbeatable quote!
CELEBRITY IN THE GALAPAGOS
W/FREE ROUND TRIP SEDAN SERVICE*
HALF OFF SECOND GUEST CRUISE FARE & ROUNDTRIP AIRFARE
Sailing Window: June 16 – Dec 31, 2019
7 Nights Itineraries
½ off Cruise Fare for 2nd Guest
10 & 11 Night packages
½ off Cruise Fare 2nd Guest
Complimentary Flights By Celebrity Air 1st and 2nd Guests
With more than 14 years in the Galapagos Islands, we've learned a lot about delivering award-winning vacations in this unique corner of the world. We understand that while world-travelers share a passion for discovery, there are all sorts of explorers.
That's exactly why we've expanded our vacations in the Galapagos to provide even more comprehensive, all-inclusive packages to satisfy the travel styles of every modern explorer. And we're helping to ensure future generations have the same incredible Galapagos experience with our industry-leading stewardship and conservation efforts.
No matter which stunning vessel you choose for your Galapagos vacation, one of the best features is that they're all-inclusive. We've thought of everything you need to relax, enjoy, and explore this distinctive chain of islands. From packages that include 5-star accommodations in Quito and luxury air transfers, to award-winning shore excursions guided by expert Naturalists that uncover the best of each island—it's all included.
A TRULY ALL-INCLUSIVE GALAPAGOS EXPERIENCE
Meals? Check. Drinks? Absolutely. Tips? We've got them covered. When you join us on a voyage of discovery in the Galapagos Islands, we provide everything you'll need. We've made your vacation all-inclusive, making your trip as convenient, relaxing and memorable as possible.
Included on every Celebrity Galapagos cruise:
7-night Galapagos cruise on one of our luxury vessels
Some of the world's most up-close and stunning wildlife encounters
Gourmet dining onboard featuring locally sourced cuisine
All drinks onboard including beer, wine, spirits, soft drinks, coffee, teas and bottled water
Twice-daily  guided excursions
Galapagos National Park certified Naturalist
Daily Naturalist briefings and Galapagos expert lectures
Premium bedding & stateroom amenities
Galapagos National Park entrance fee and Galapagos Tourist Card fee
Galapagos Meet & Greet service by Naturalist
Complimentary room service upon request
Complimentary use of snorkeling equipment, mini-wet suits, binoculars and walking sticks
Complimentary Wifi access
All gratuities
Included on every Celebrity Galapagos package of 10 or more nights:
7-night All-Inclusive Galapagos cruise
Round-trip flights between Ecuador and the Galapagos Islands
All tour connecting airfare transfers within/between Ecuador & Peru
All tour transfers to/from ship, hotels and airports
Luxury hotel and ship accommodations throughout
Meet and greet services at all in-destination airports for transfers and tours
VIP check-in and check-out at all hotels
Multiple fully-escorted and immersive tours and excursions in each location visited
Meals and non-alcoholic beverages throughout your tour and at hotels
In-destination luggage service including compliance with mandatory Galapagos agricultural inspection
All tour entrance fees
Celebrity Concierge Service/tour escort throughout your journey
All gratuities
Explore the Islands
Within this small archipelago, each of the Galapagos islands is uniquely diverse. Some have shorelines draped in mangroves, others are rugged volcanic outcrops jutting defiantly from the sea. You won't see the same distribution of wildlife on any two islands, and each has its own history, both geologic and otherwise. See what's in store on each of the exciting stops on your itinerary.
Active Adventures with a Focus on Nature
The best way to immerse yourself in a Galapagos experience is by cruising between the enchanted islands. Our luxury Galapagos voyages leave the crowds behind and avoid long periods at sea. Instead, we deliver cruises for active travelers with an interest in the landscapes and wildlife of these unique islands. For those seeking wild destinations and exceptional onboard comforts; who appreciate a balance of awesome adventure and refined relaxation. Our expert on-board guides–certified by Galapagos National Park–will be on hand to educate you on the islands and to demonstrate our commitment to preserving this delicate ecosystem.
Your Expert Leads the Way
Dr. Ellen Prager, marine scientist and author, has partnered with us for many years. She's an expert in the wildlife and ecosystems of the Galapagos Islands. From assisting with onboard programming to excursion planning, she and a team of expert naturalists play a key role in bringing your Galapagos vacation to life—above and below the water.
Enjoy Casual Al-Fresco Dining, Open-Air Grilling and All-Inclusive Beverages
From the robust Ecuadorian coffee to the fresh fare at every meal, almost everything on the menu was grown, raised or caught right here on these islands.  We take all those incredible, fresh ingredients and prepare a daily feast full of local flare and flavor.  Every menu is crafted by our Michelin-starred chef, and every menu takes you a bit further into becoming one with this enchanting destination and unique culture.
EXTRAORDINARY WILDLIFE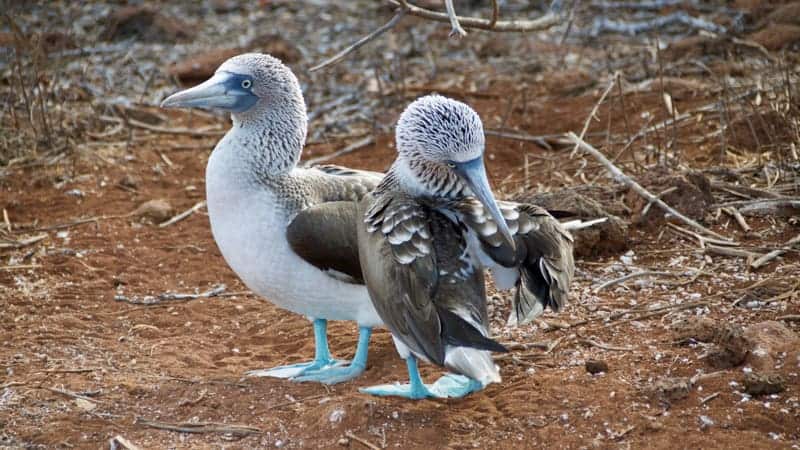 Discover evolutionary wonders such as the Blue-footed booby, Darwin's finches, land and marine iguanas and flightless cormorants with expert guides showcasing what makes them special in the animal kingdom.
Protecting the Planet We Love
We don't just love visiting the Galapagos—we are passionate about preserving it. We've done so much to leave these islands virtually untouched that Ecuador's Secretary of Tourism holds Celebrity Cruises® as the standard of excellence for reducing our carbon footprint. Your entire Galapagos experience practices the highest levels of environmental stewardship. The chocolate on your pillow is from a local company that sources its cacao from small local producers, the hull of your ship is painted with silicone to move her more efficiently, and we've helped local farmers and fishermen establish practices that deliver fresh, sustainable food to your plate on board. We're committed to improving the quality of life for the residents of the Galapagos Islands and ensuring future generations get to experience this magical place just as you get to today.

CALL 1-844-589-8791 TO BOOK TODAY!
Terms & Conditions: All rates are per person in USD based on double occupancy in a base category stateroom unless stated otherwise. Perks available are for oceanview or higher staterooms.  Some categories booked require a non refundable deposit.  
Want the best price on a cruise? Get an unbeatable quote!
Always Available
Travel experts available 24/7
1-844-589-8791
Free cruise planning and expert advice
The Best Prices
We won't be undersold, ever