Star Clippers
Cruises starting at only $1,310 pp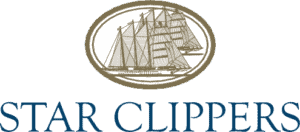 For over 25 years, Star Clippers has offered authentic tall-ship sailing experiences featuring creative itineraries throughout the Mediterranean, Caribbean and Asia. Itineraries are hand-crafted based on wind patterns to enable these majestic ships to take advantage of the power of the wind.
Life on board is casual and relaxed, with no crowds or lines, just the perfect amount of personal service – like being on your own private yacht. Holding 170 to 300 guests, the ships are adorned with striking brass fixtures and an abundance of real teak wood. Deep hues and gold celebrate Star Clippers nautical décor and design.
Guests can be as busy or as relaxed as they want to be with complimentary water sports, yoga and wellness classes, swimming pools, shore excursions designed to highlight to best of the ports visited and guest lecturers – or relax by the pool, on the beach or in the bowsprit net suspended above the ocean watching dolphins frolic below. Where else would you be able to help raise the sails, climb the mast to the crow's nest 75 feet above the deck, learn how to read nautical charts or steer an actual sailing ship? The friendly captain and crew are always accessible and eager to show off their nautical skills and knowledge.
Best for:
Adults
Adventurers
Honeymooners
Singles
Learn more
Discover the most recent posts on our blog.