7 Best Cruise Lines for Foodies
Last updated on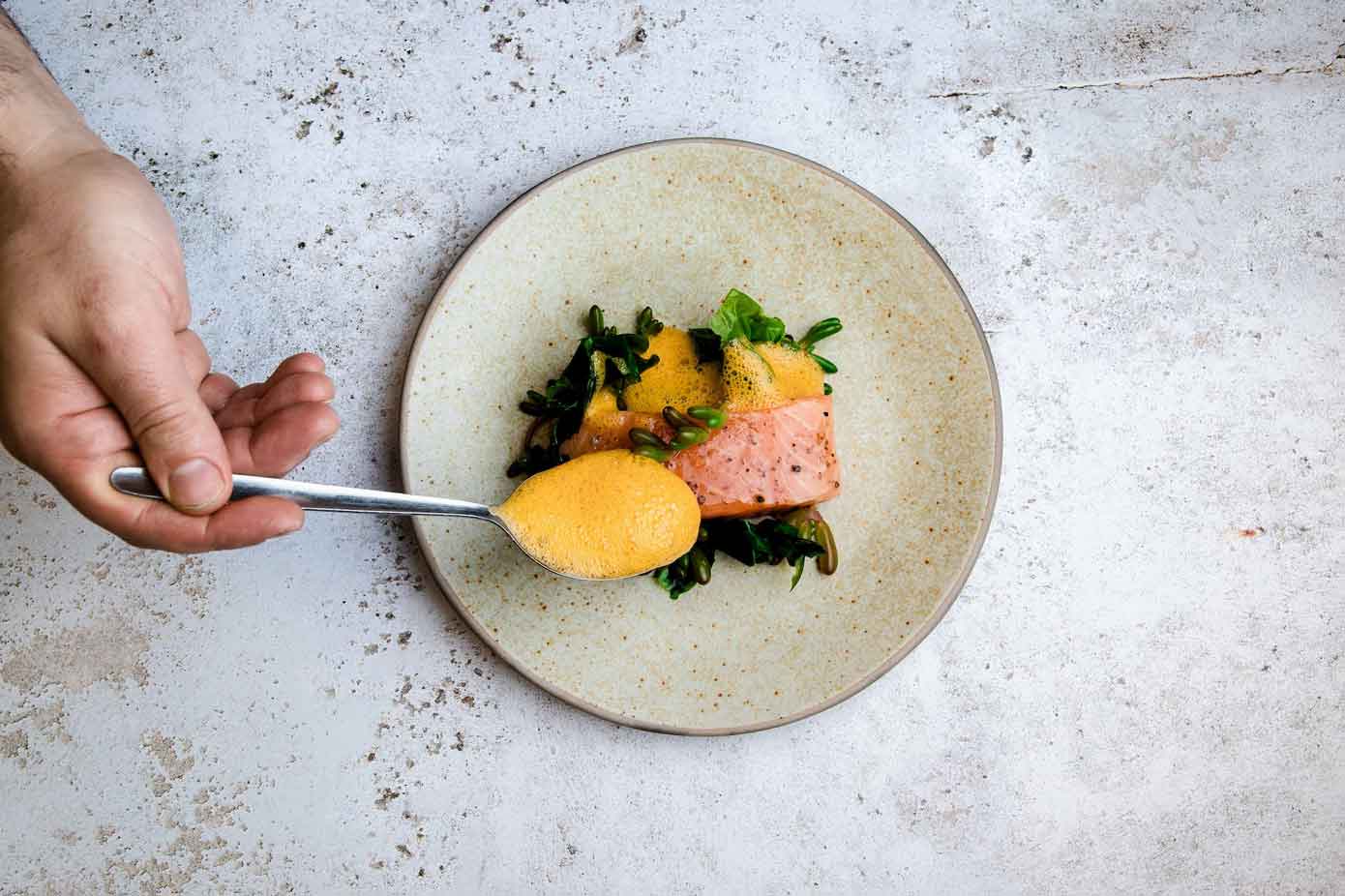 It's fair to say that food is not the main reason why people go on cruises. Most often, many people choose a cruise for its ample amenities, beautiful destinations and weather, and amazing entertainment. Food is often a secondary priority, usually provided in the form of buffets—whether all-you-can-eat or all-inclusive, or something else. So, in this seemingly under-saturated market, you might wonder: "which cruise line has the best food?".
Those of you who like both cruising and eating well, don't have to worry. There are, perhaps surprisingly, actually quite a few cruise lines with ships that focus on cuisine as well. As the societal focus shifts toward locally sourced, sustainably produced and ethically grown ingredients—organic food, and farm-to-table restaurants… cruise lines have no choice but to follow that trend. And they do so with rather remarkable success.
Many cruise lines now cater toward foodies. They feature things like specialty niche restaurants, cooking classes, excursions to local farmers markets, cuisine-focused itineraries and dishes made with popular ingredients from specific ports of call. Additionally, pretty much every cruise line has a chef who has a Michelin star nowadays. If that's not proof that modern cruise lines take cuisine seriously, we don't know what is!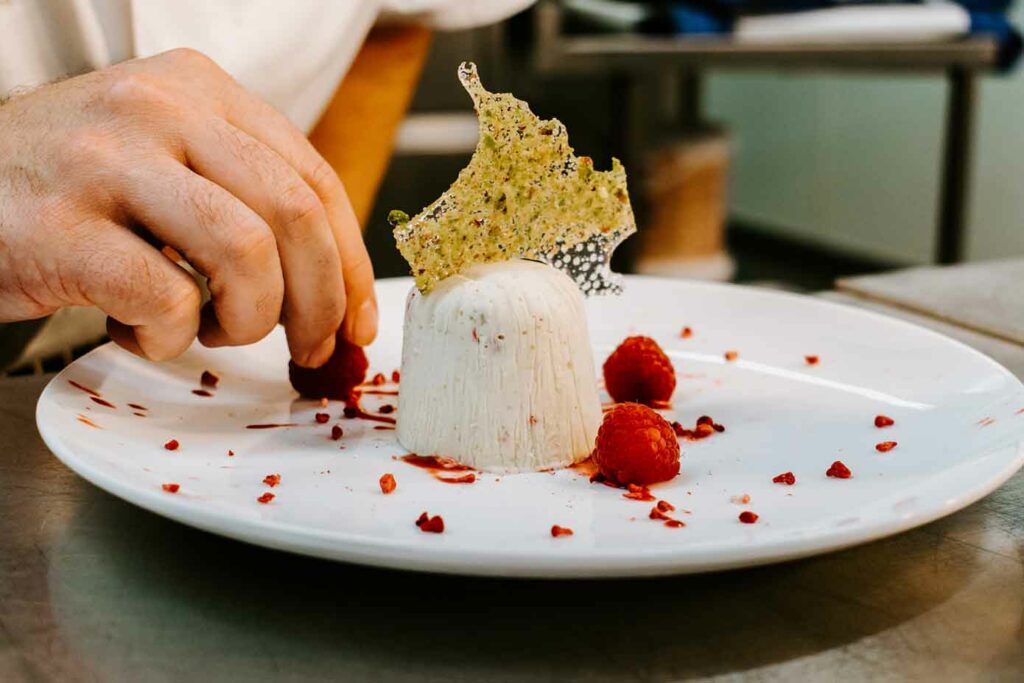 Best Cruise Lines for Foodies and Fine Dining
If your taste buds can appreciate the more sophisticated foods of the world, you should definitely check out our recommendations for the best cruise lines for foodies and fine dining.
Celebrity Cruises
Celebrity Cruises is known for its world-class dining, and for good reason. The cruise line offers a wide variety of dining options, from casual buffets to fine dining restaurants, all of which feature fresh, high-quality ingredients. Celebrity Cruises also has a team of world-renowned chefs who create innovative and delicious dishes that are sure to please even the most discerning palate.
Here are just a few of the reasons why Celebrity Cruises has the best cruise line food:
Fresh, high-quality ingredients: Celebrity Cruises sources its ingredients from all over the world, and the chefs use only the freshest and finest products in their dishes. This commitment to quality is evident in every bite.
Innovative and delicious dishes: Celebrity Cruises' chefs are constantly creating new and exciting dishes that are sure to please even the most discerning palate. From classic favorites to new culinary creations, there's something for everyone to enjoy.
A wide variety of dining options: Celebrity Cruises offers a wide variety of dining options, from casual buffets to fine dining restaurants. Whether you're in the mood for a quick bite or a leisurely meal, you'll find something to your taste.
Excellent service: Celebrity Cruises' staff is dedicated to providing excellent service, and they go above and beyond to make sure that you have a memorable dining experience. From the moment you sit down to the moment you leave, you'll feel like you're dining in a fine restaurant.
If you're looking for a cruise line with great food, Celebrity Cruises is the perfect choice. With its fresh, high-quality ingredients, innovative and delicious dishes, wide variety of dining options, and excellent service, Celebrity Cruises is sure to satisfy even the most discerning palate.
Recommended restaurant: Blu
Suggested dish: Everything at Blue is delicious, but we especially like the pan-seared filet mignon with celery purée, green asparagus, cabernet confit shallots, and olive oil beef jus
Norwegian Cruise Line
If you fancy a cruise that departs from New York City, the ship Norwegian Breakaway from Norwegian Cruise Line should be your first choice. The cruise experience on this ship is as NYC as it gets, with its mesmerizing Broadway performances and typical eateries.
By partnering with renowned chef Geoffrey Zakarian, Norwegian has put itself in the culinary-cruise spotlight. The Breakaway's dining venues include everything from a Brazilian steakhouse to the highly rated seafood restaurant Ocean Blue, which is run by Zakarian.
Of course, you can find some delicious cuisine on Norwegian's other ships as well, from the Norwegian Bliss to Norwegian Getaway and Norwegian Joy. All those ships offer thoughtfully created menus in up to three different Main Dining Rooms, several casual cafes, grab-and-go places, seafood restaurants, and bars and grills. There are some excellent options for family dining experiences on board, too.
Additionally, Norwegian also gives its passengers the chance to immerse themselves in regional specialties on special shore excursions for foodies.
Recommended restaurant: Ocean Blue
Suggested dishes: Caribbean lobster risotto, and whole roast Dover sole with meunière sauce
Seabourn
Seabourn is one of the world's best luxury cruise lines, sailing literally all over the world. From Alaska to Antarctica, from the Mediterranean to the South Pacific, if you're after luxurious journey to pretty much every coastal destination on earth, this is the company for you. One of its greatest features is its gourmet dining. Serving award-winning cuisine, the various dining venues on each Seabourn ship provide you with the perfect choice to suit your mood.
Dining abroad a Seabourn ship is 100% complimentary; you can dine where, when and with whom you want. Noteworthy restaurants are The Restaurant, The Colonnade, The Patio and, especially, The Grill by Thomas Keller, a world-famous American restaurateur who owns three Michelin-starred restaurants. Additionally, you can also opt to have your multi-course meal from The Restaurant served in your own suite or your veranda
If all of that doesn't convince you that Seabourn is one of the best cruise lines for foodies, this fact will: the company is a member of the Chaîne des Rôtisseurs, one of the most prestigious gastronomic and fine-dining societies in the world. In a nutshell, dining at a Seabourn ship is a world-class experience.
Recommended restaurant: The Grill by Thomas Keller
Suggested dishes: lobster thermidor and creamed spinach
Royal Caribbean
Royal Caribbean's Quantum of the Seas is the ship for you if you're into mouthwatering (and even experimental) food. This is one of the cutting-edge ships that make Royal Caribbean one of the best cruise lines for food and fine dining.
One of the most revolutionary cruise ships that currently sail the seas, Quantum of the Seas has no fewer than fifteen restaurants. There's a bionic bar—where actual robots mix your cocktails!—and a sushi restaurant, while the Chef's Table offers a superb private five-course dining experience.
What you should focus on, however, are the restaurants owned by famous British chef Jamie Oliver and renowned Miami chef Michael Schwartz. Another highly recommended venue is Izumi, a superb Japanese restaurant offering guests an exotic East Asian dining experience.
Recommended restaurants: Jamie's Italian by Jamie Oliver and Chef's Table
Suggested dishes: the entire Chef's Table experience will blow you away
Princess Cruises
Princess Cruises is basically the cruise line that gave the world the concept of "chef's table at sea". It is, in other words, a pioneer when it comes to culinary cruises and one of the best cruise lines for foodies and fine dining in the world. And that's a true statement, Food & Wine Magazine having voted it as one of the "best cruises for food lovers"—literally.
On a Princess Cruise, there's lack of neither high-end cuisine nor dining options. Everything from hand-tossed pizzas to world-class chocolates to multi-course gourmet dinners is available.
Princess Cruises has teamed up with two award-winning chefs, Los Angeles-based chef Curtis Stone and Ernesto Uchimura who founded the world's first umami burger restaurant. Chocolatier Norman Love crafts stunning desserts and creates menus filled with different chocolate drinks, including chocolate-infused cocktails. His "Chocolate Journeys" also feature wine-and-chocolate pairings, which is always a fun thing to do.
Recommended restaurant: The Salty Dog Gastropub
Suggested dish: The "Ernesto" burger, previously voted as the best burger at sea
Viking Ocean & River Cruises
Through its "destination-focused dining", Viking Cruises offers its passengers yet another chance to immerse themselves in the local culture of their destinations—one of its signature features.
However, you can also enjoy culinary classic at its many different restaurants, which are famous for offering the most al fresco dining at sea. So, whether you're looking to try some local specialties or simply want to enjoy comfort food you know, Viking's restaurant will take care of you.
Mention-worthy eateries onboard Viking Ocean ships are Mamsen's, which serves Norwegian specialties for breakfast, lunch, snacks or dinner; the Aquavit Terrace, a magnificent al fresco dining area; and The Chef's Table, which offers a multi-course tasting and wine-pairing experience. Additionally, another feature that makes Viking Ocean Cruises one of the best cruise lines for foodies is The Kitchen Table. This onboard cooking school takes food lovers on an interactive culinary journey through local culture and cuisine.
The company's other branch, Viking River Cruises, also offers destination-focused dining. Although the river ships are much smaller than the ocean-going vessels, they do have a few excellent dining options: Aquavit Terrace and The Restaurant. Again, this is where you'll find the "most al fresco dining" on the waterways of Europe.
Recommended restaurants: Aquavit Terrace and Mamsen's
Suggested dish: all Norwegian specialties at Mamsen's