Best Cruises from Florida
Last updated on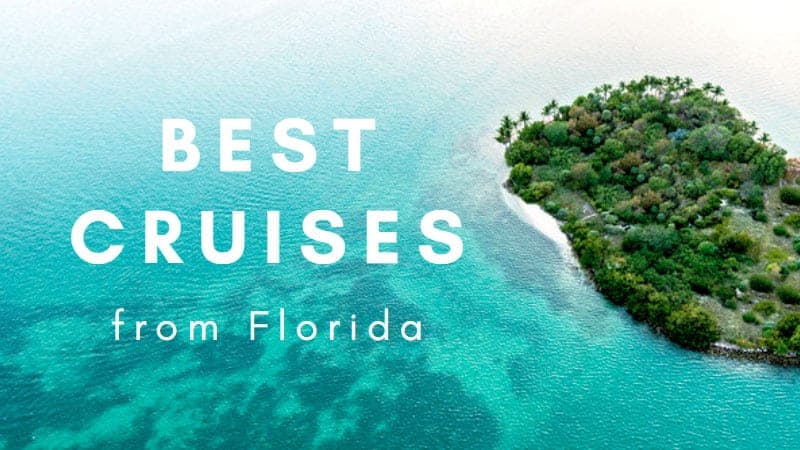 Several of the biggest cruise lines offer scenic cruises from Florida. An extremely popular sun-sea-and-sand destination as it is, Florida attracts party-goers, nature lovers, beach enthusiasts, water sports fans, retirees and even foodies. Home to vibrant cities like Miami, Tampa and Fort Lauderdale, it has more major cruise ports than any other state, which are also among the world's busiest.
In fact, Florida is the main departure point for cruises to the sunny Caribbean. Nowhere else will you find the sheer number of Caribbean cruise itineraries than in Florida. Additionally, the "Sunshine State" is also a great place to embark on cruises to the Bahamas, Mexico and the iconic Panama Canal.
Best Cruises from Florida
Cruising from Florida
The long Florida Peninsula juts out from the American mainland and boasts an exceptionally long coastline, featuring wetlands, palm tree-lined beaches, seaside towns and bustling cities. The peninsula is between both the Atlantic Ocean and the Gulf of Mexico, almost entirely surrounded by water. This makes Florida uniquely suitable for a variety of cruises.
Whether you'd like to explore the Florida Keys and coasts of Mexico or Central America, or sail through the beautiful Caribbean, it's possible on the abundance of cruises from Florida. From short weekend sailings to weeks-long voyages, Florida cruises cater to all kinds of travelers.
1. Caribbean Cruises from Florida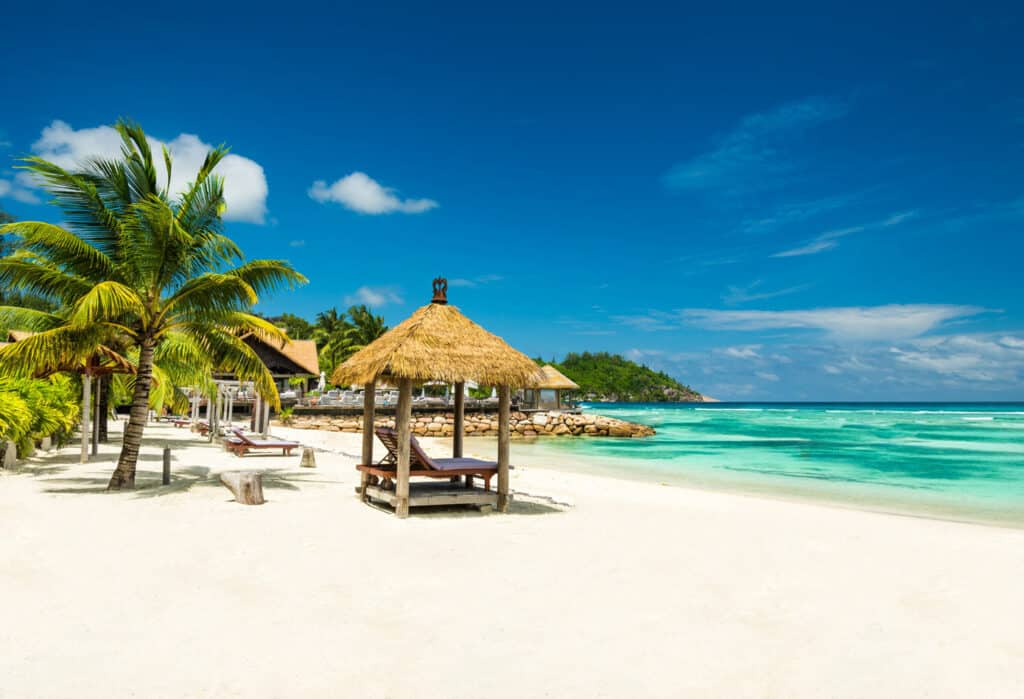 Arguably the number one cruise destination from Florida, the incredibly diverse Caribbean Islands offer a wide array of awesome experiences. Made up of three distinct "island arcs"—the Greater Antilles, Lesser Antilles and Leeuward Island—this vast island group consists of more than 30 countries or territories, including many of the most famous beach destinations on the planet. This includes such iconic islands as the Virgin Islands, Puerto Rico, Jamaica, the Dominican Republic, Curacao, Martinique, Sint Maarten and Saint Lucia.
It is, therefore, not surprising that there's an abundance of Caribbean cruise itineraries available from Florida. These are generally split up into three categories: Western Caribbean, Eastern Caribbean and Southern Caribbean cruises.
Whichever region you choose, you'll have the chance to visit some of the most breathtaking beaches on Earth, explore colorful coral reefs, hike to waterfalls and so much more. The vibrant Caribbean island culture is also a major attraction. Shop for unique island crafts, clothes and artifacts, from jewelry and Mexican silverware to Cuban cigars.
And then there's the food! For some people, the opportunity to indulge in amazing Caribbean cuisine is the only reason they need to book a Caribbean cruise from Florida. Enjoy spectacular fish and seafood dishes, sample a variety of grilled foods and snack on juicy tropical fruits. Food is a huge part of the Caribbean cruise experience.
👉 Get a price on a Caribbean cruise from Florida
2. Bahamas Cruises from Florida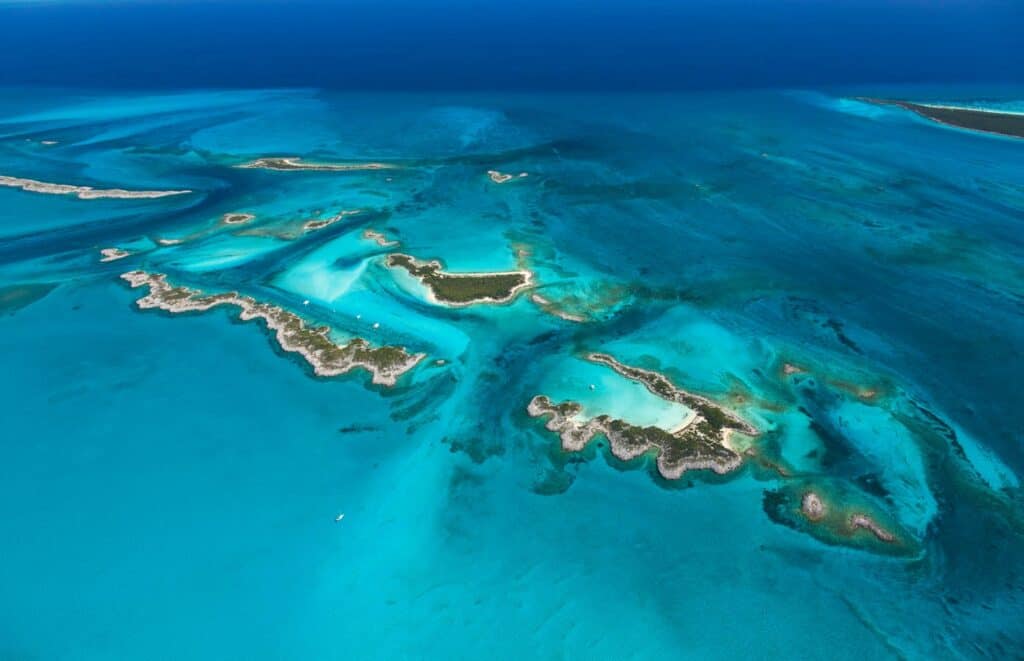 Few island groups invoke images of sun-soaked beaches, palm trees swaying in the wind and azure water so well as the Bahamas. The name is nearly synonymous with tropical vacations. The Bahamas island chain is in the Atlantic Ocean, just east of Florida and north of Cuba. Not located in the Caribbean Sea, it's not geographically part of the Caribbean Islands.
The beautiful Bahamas are one of the most popular destinations on cruises from Florida, thanks to their tropical climate, easy accessibility from all cruise ports on the east coast of Florida, hospitality and rich history.
On a Bahamas cruise from Florida, you can relax and unwind on stunning sand beaches, go snorkeling in coral reefs, enjoy fascinating shore excursions and indulge in delicious local food. Shop for Bahamian arts and crafts or discover pirate history in Nassau, the West Indies' former pirate capital.
👉 Get a price on a Bahamas cruise from Florida
3. Panama Canal Cruises from Florida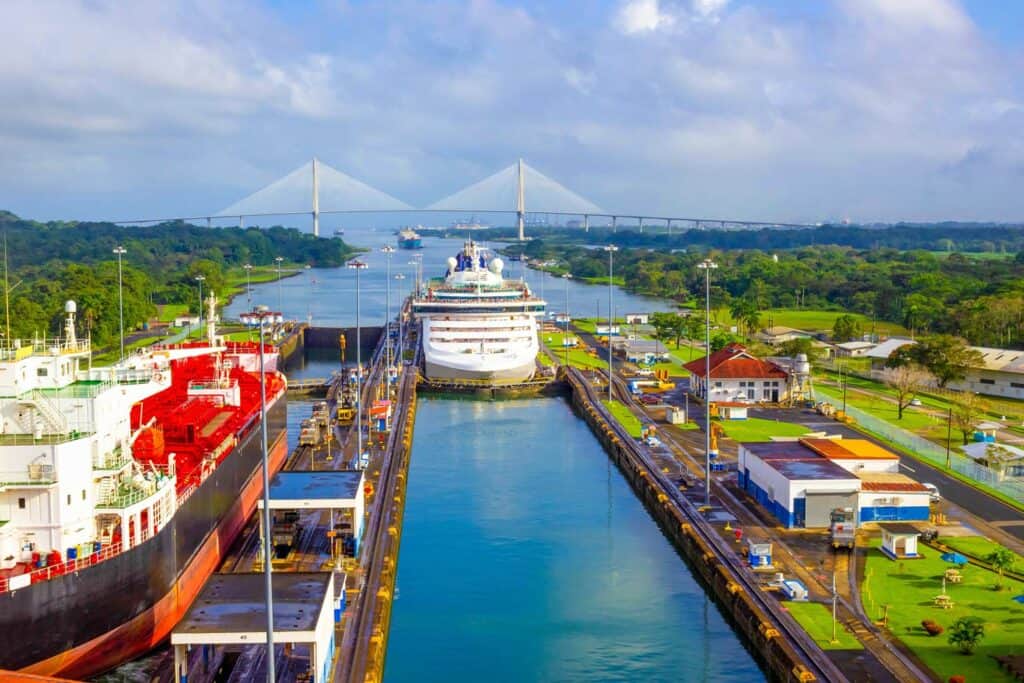 When cruising from Florida, you have the extraordinary opportunity to have one of the world's greatest sailing experiences. A crossing of the Panama Canal transports you from the Atlantic Ocean to the Pacific Ocean, an unforgettable trip that's worthy of inclusion on any bucket list.
On a Florida cruise to the Panama Canal, you'll first also visit some amazing destinations on the way. This may include the Florida Keys, the Costa Rican jungle and Cartagena, Colombia. Once in the Pacific, these epic cruises stop at various ports on the Central American west coast, such as Puntarenas (Costa Rica), San Juan del Sur (Nicaragua) and Puerto Vallarta (Mexico).
Panama Canal cruises from Florida depart from many different ports in Florida and there are several end ports options on the U.S. West Coast, too. From Florida, you can sail to, for example, San Diego, Los Angeles, San Francisco or Seattle. The vast majority of Panama Canal cruises are one-way voyages, although you might occasionally also find a round-trip option.
👉 Get a price on a Panama Canal cruise from Florida
4. Mexico Cruises from Florida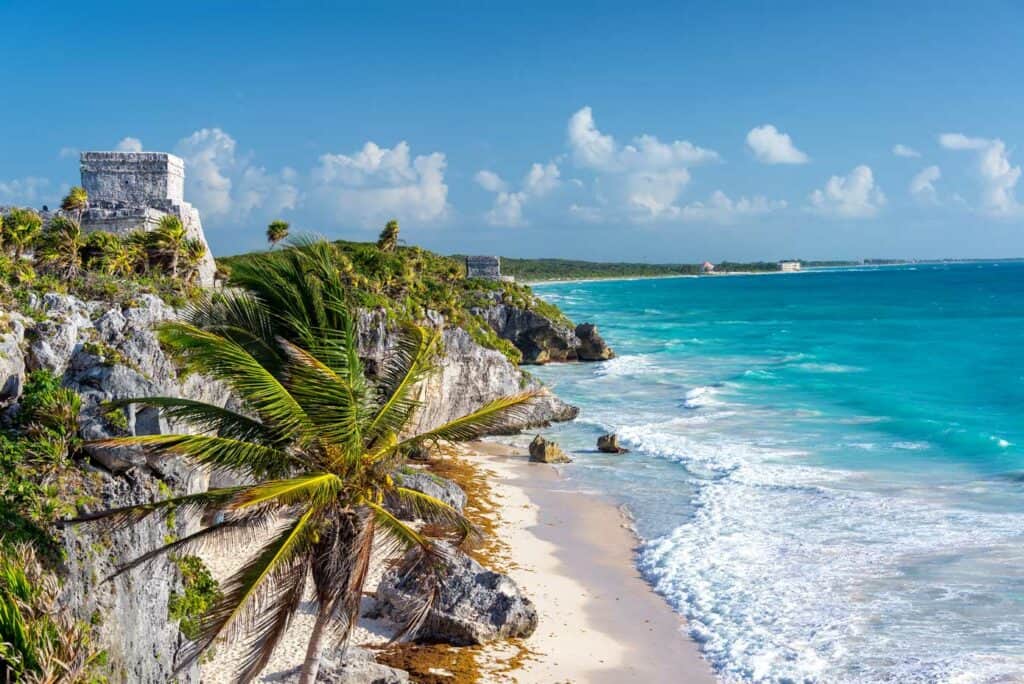 Sail across the Gulf of Mexico from Florida and explore the gorgeous Costa Maya on Mexico's east coast. This is an exceptionally convenient way to explore and experience the famous Yucatan Peninsula. Go on a snorkeling or scuba diving trip, enjoy the vibrant underwater world on a glass-bottom boat, sample mouthwatering Mexican food and sunbathe on sandy beaches.
The Costa Maya is, of course, also home to some of the world's greatest ancient ruins. Immerse yourself in the world of the once-thriving Mayan civilization and visit Chichen Itza and explore the jaw-dropping ruins of Tulum.
Additionally, most cruises from Florida to Mexico also stop at Cozumel. This beautiful island is one of the world's most popular cruise ports for good reason. It's a fantastic destination for all types of cruisers, offering everything from animal experiences (stingrays, sea turtles, dolphins,…) and action-filled adventures like ATVing and jet boating to epic beaches and ice-cold margaritas.
👉 Get a price on a Mexico cruise from Florida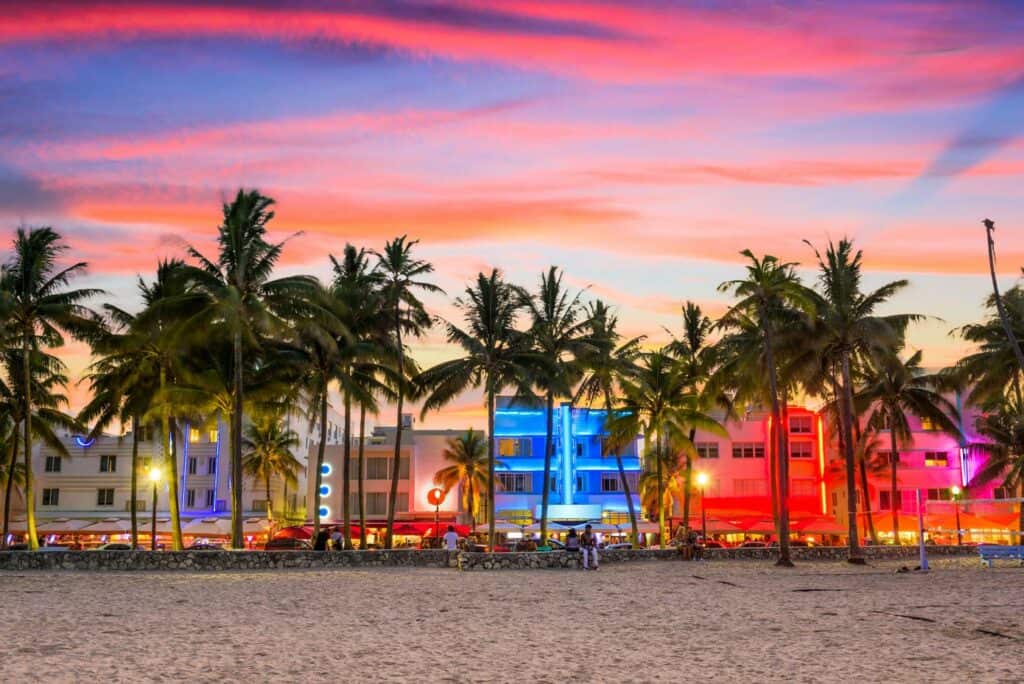 Cruise Lines That Sail to and from Florida
As a hugely popular departure state for cruises, Florida hosts most major cruise lines.
Carnival Cruises
Celebrity Cruises
Disney Cruise Line
Holland America Line
MSC Cruises
Norwegian Cruise Line
Oceania Cruises
Princess Cruises
Royal Caribbean
Silversea
Virgin Voyages
Main Florida Cruise Ports
As we pointed out above, no other state has as many large cruise ports as Florida. While there are major ports elsewhere in the United States—examples include Boston, San Francisco, Los Angeles and Seattle—Florida is arguably the cruise capital of the USA. These are the five largest cruise ports in Florida, all offering amazing itineraries and visited by some of the world's biggest cruise lines.
Miami – Port of Miami-Dade (biggest cruise port in the world)
Orlando – Port Canaveral
Fort Lauderdale – Port Everglades
Tampa – Port Tampa Bay
Jacksonville – Jaxport
What's the Best Time for Cruises from Florida?
Most cruises from Florida head either to the Caribbean or the coast of eastern Mexico and Central America. Some cruises visit both areas. Although it's possible to go on cruises from Florida to the Caribbean, Mexico and Central America year-round, there are a couple of periods that are better than the rest of the year.
Winter
First of all, the constantly warm weather in this region makes it a fantastic place to escape the cold, rainy and/or snowy winter in the Northern Hemisphere. Additionally, December through April is not only comfortably warm, but it's also the driest time of the year. This is the dry season. It is good to know, though, that the sea water is slightly cooler in winter, so snorkeling and scuba diving is a bit less comfy than it is in summer. That being said, abundant sunshine can still warm up you pretty quickly.
Spring
Generally speaking, you'll find the best time to cruise from Florida to be spring. This is the season that has the best overall weather conditions, allowing for all sorts of outdoor fun. The first half of spring is still well within the dry season, while temperatures are higher than they are in winter, yet much more pleasant than the sometimes-hot summer.
Summer
Come summer, huge crowds of summer vacationers descend onto the Caribbean Islands and Mexican and Central American coastlines. This is the peak tourist season, even though it's also much hotter and somewhat wetter than both winter and spring are. It's also important to realize that late-summer is the start of hurricane season. So if you're cruising from Florida in summer, picking a date in June or July is probably a better choice.
Fall
The hurricane season runs roughly from August to November. While you can still find plenty of southbound cruises from Florida, keep in mind that the weather might affect your plans. Just because it's hurricane season, however, this is also the best time of year to find excellent cruise deals. Fall is the cheapest time to cruise from Florida, for sure.
Conclusion
Taking into account all factors, from weather to prices, we can conclude that March and April are the best months for cruises from Florida. You can also find cheaper cruises during hurricane season, August through October, and in the beginning of December, before the busy winter holiday season.