Virgin Voyages (What's to Come)
Last updated on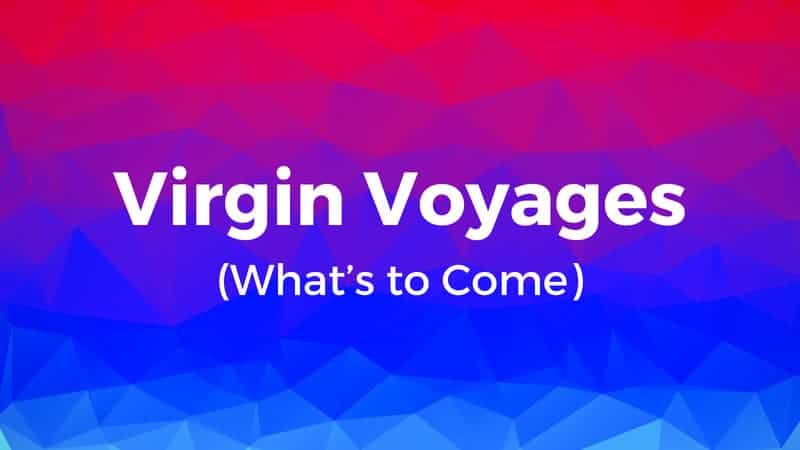 Competition is good for any industry and that also applies to the cruise industry, many even more so than to others. So, when a person like Richard Branson, the eccentric entrepreneur behind Virgin Atlantic and Virgin Galactic gets involved, you know things are about to change. Now, Virgin has announced its plans to create a new cruise line, Virgin Voyages.
The Future Is Coming to the Cruise Industry
Whatever Richard Branson touches appears to turn to gold. From its world-class airline to the groundbreaking Virgin Galactic space flights, futuristic travel is what the Virgin Group does best. And now, their sights are set on the cruise industry.
While cruises might have been regarded as something for retirees or young families for decades by the mass public, this could all change within less than two years. If anyone or any company can turn cruises from a niche in the travel realm into a cool, hip and perhaps even sexy concept, it is Branson and Virgin. So, let's take a look at what's to come, what Virgin Voyages has to offer.
Virgin Voyages – Making Cruises Hip
It's been known for a while now that Virgin Voyages is in the works and, recently, the company has started to release bits and pieces of information with regards to its actual plans.
During an event earlier this spring, Virgin revealed more details as to what they're up to. It was announced that sailings are expected to begin sometime in 2020 from Miami. Not a whole lot of information was provided, though. It was more a #ShipTease (as they called it themselves) than anything else. Everyone knows how great Branson and Virgin are at promoting and marketing themselves and this event was exactly that—keeping the public wanting more and sparking their interest. It all, of course, worked like a charm. Everyone is yearning to find out more now.
What they did reveal, however, was the ship's design, interior characteristics and exterior public areas.
Virgin Voyages' mission is to "change sea vacations". It will do so through an entirely new and fresh take on what a cruise should be like. They say: "Curiosity is more important than an itinerary. Interactions matter more than transactions. With us, you don't 'tourist'—you voyage."
With their "Creative Collective" of world-renowned designers, they aim to redefine how people think about cruises. Each aspect of a Virgin Voyages cruise will focus on offering a meaningful cruise experience their sailors. (They consciously call guests "sailors" and not passengers.)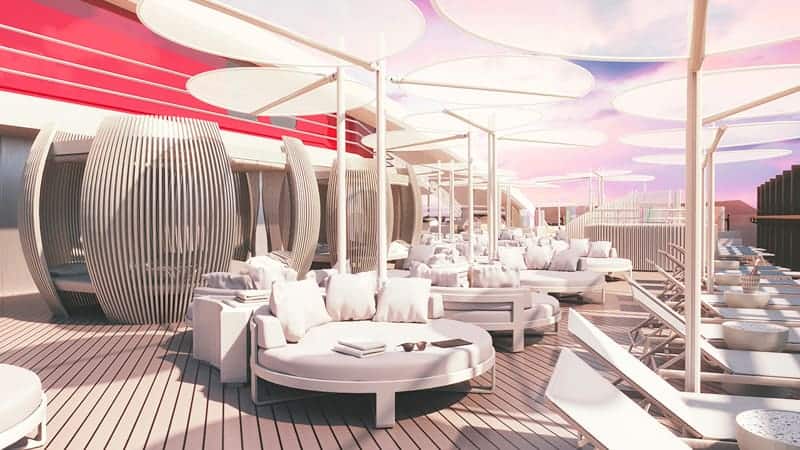 Modern Design, Industry-Changing Features
As you can expect from a Virgin venture, the Virgin Voyages ship will have Virgin written all over it. The furniture will be ultra-modern and its primary colors red, white and purple. Additionally, violet lighting reflects the atmosphere that's already well-established on Virgin Atlantic planes.
Features also range from a Test Kitchen and a private VIP deck called Richard's Rooftop to the "Athletic Club" lounge, which will boast the largest daybed at sea in the world. This semi-circular bed lies next to huge area of triple netting, offering guests the chance to relax and look down on the decks below. Other fun stuff includes The Manor, a nightclub inspired by Richard Branson's former life in the music industry, and a high-end Mexican restaurant.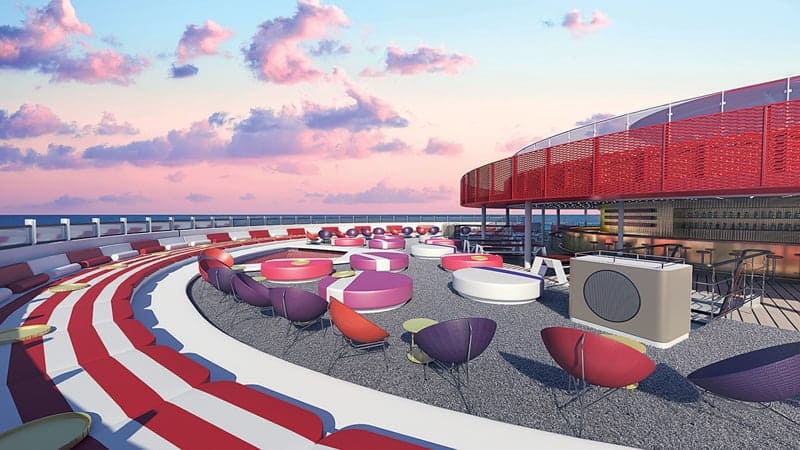 Adult-Only Cruises
The biggest feature of Virgin Voyages, however, will be its adult-only policy. To sail on a Virgin Voyages cruise, you will have to be at least 18 years old. What will set this brand-new cruise line apart is its target audience, which, unlike all other existing cruise lines, will not be families on their annual vacation. Instead, Branson says, the goal is the attract people who would never consider going on a cruise. He points out that loud children running around on ships disturbs many people's peaceful holiday experience.
With its new ideas on what cruises should be, Virgin Voyages is sure to transform and revolutionize the cruise industry, just like it has done the air travel industry.