If you're thinking about going on a river cruise in Europe, you might as well choose a Viking Danube cruise. Viking River Cruises, one of the best river cruise lines in the world, has a plethora of world-class river cruises in three different continents, however, a Viking Danube river cruise is one of the best things they have on offer.
This epic river flows through no fewer than ten countries in Central Europe, bringing you to a number of gorgeous old cities, amazing wine regions and breathtaking natural scenery. A historic trade route, the Danube connects cultures and peoples. Vineyards cover its banks while its landscapes have inspired many an artist over the centuries.
6 Viking Cruises on the Danube River
You have six different options for a Viking Danube cruise to choose from, lasting from 8 to 23 days. The shortest cruises cover one of the river's most spectacular sections while the longest options take in virtually the entire river as well as the Rhine and even beyond.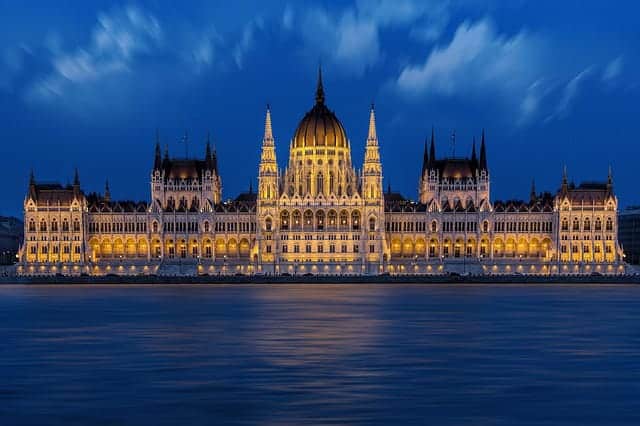 Grand European Tour
The sensational Grand European Tour is a journey from Amsterdam to Budapest, through the very heart of Europe. This 15-day Viking river cruise allows you to intensely experience the best of Europe. From the windmill-lined canals of the Netherlands to the scenic banks of the Rhine and Main rivers to the wine and cuisine of Austria's Wachau Valley and Budapest's hot springs, the highlights of this cruise are endless.
Duration: 15 days
Countries: the Netherlands, Germany, Austria and Hungary
Cities: Amsterdam, Cologne, Bamberg, Nuremberg, Passau, Vienna, Budapest and more
Price: from $4,889

Romantic Danube
Traveling along what's arguably the most scenic stretch of the Danube, the Viking River Cruise Romantic Danube takes you from Budapest to Nuremberg, through three countries and to a handful of Central Europe's greatest historic cities. Start your trip with two days of urban exploration in Budapest before sailing to iconic places such as Vienna, Krems, Passau and Regensburg. Prepare for a journey that oozes culture, cuisine, history and architecture.
Duration: 8 days
Countries: Hungary, Austria and Germany
Cities: Budapest, Vienna, Krems, Passau, Regensburg and Nuremberg
Price: from $1,999

Danube Waltz
The Danube Waltz cruise is pretty similar to the cruise mentioned above, except that it travels in the opposite direction, doesn't go to Nuremberg, but does take in Bratislava, Slovakia's highly underrated capital. In eight days on the river, you'll be able to enjoy the stunning beauty of the Wachau Valley, learn how to waltz in Vienna, sample Central European food in Budapest. This relatively short itinerary is packed with highlights in amazing towns, while the river scenery is just spectacular.
Duration: 8 days
Countries: Germany, Austria, Slovakia and Hungary
Cities: Passau, Linz, Krems, Vienna, Bratislava and Budapest
Price: from $1,999

Passage to Eastern Europe
The Passage to Eastern Europe Viking river cruise Danube tackles the eastern section of this iconic river, a part of Europe that's relatively less explored, yet absolutely surprising. Your journey starts in Bucharest, Romania and takes you through beautiful countries like Bulgaria, Serbia and Croatia before ending in Kalocsa, a major cultural hub in Hungary. This trip includes everything from bread-baking with a local cook to visiting the home of a Croatian family, admiring the majestic buildings of Budapest and experiencing the mix of cultures in Belgrade.
Duration: 11 days
Countries: Romania, Bulgaria, Serbia, Croatia and Hungary
Cities: Bucharest, Veliko Tarnovo, Vidin, Belgrade, Osijek and Kalocsa
Price: from $2,699

Grand European & Viking Fjords
The epic Grand European & Viking Fjords cruise combines two great itineraries to create one ultimate European voyage. You will cross the European continent, from Budapest in southeastern Europe to Bergen all the way on the Norwegian coast or vice versa. In terms of cultural, natural and culinary variety, it doesn't get much better than that. Note, however, that this cruise doesn't take place until May 26, 2019, though.
Duration: 22 days
Countries: Norway, Denmark, the Netherlands, Germany, Austria and Hungary
Cities: Bergen, Stavanger, Oslo, Skagen, Amsterdam, Cologne, Nuremburg, Passau, Vienna, Budapest and many more
Price: from $8,548

European Sojourn
This 23-day cross-continent cruise takes you from the heart of Western Europe into the middle of Southeastern Europe. The European Sojourn cruise is not only a Viking Danube cruise, but it also takes you along the Rhine and Main rivers. This fabulous river cruise combines the above-mentioned Grand European Tour and Passage to Eastern Europe cruises and is one of the absolute best river cruise you can possibly do in Europe.
Duration: 23 days
Countries: the Netherlands, Germany, Austria, Hungary, Croatia, Serbia, Bulgaria and Romania
Cities: Amsterdam, Cologne, Koblenz, Bamberg, Nuremberg, Vienna, Budapest, Osijek, Belgrade, Bucharest and others
Price: $6,799
Contact us with any questions about Danube Viking River Cruises or request a quote in the sidebar.