AmaWaterways vs Viking
Last updated on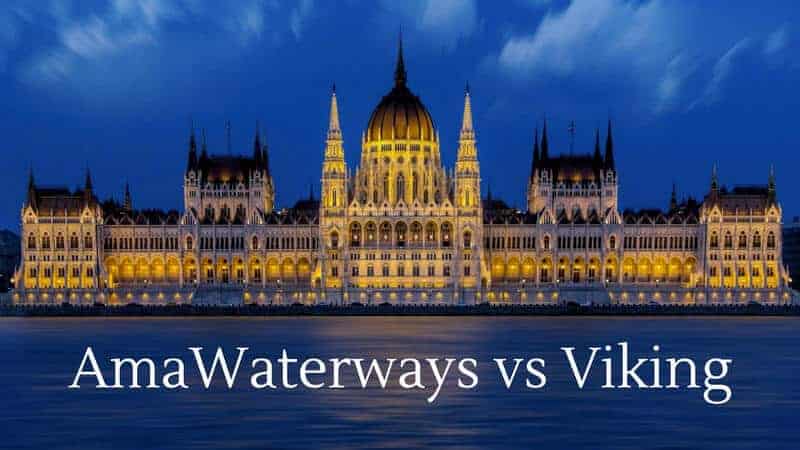 River cruises are arguably the most convenient, comfy, and scenic way to explore a certain region. Whether it's the iconic rivers of East Asia, the canals of western Russia, or the legendary rivers of Europe, there are a few world-class river cruise lines that take you along them. This AmaWaterways vs Viking comparison dives into the differences and similarities of both cruise lines.
AmaWaterways vs Viking Comparison
At first sight, AmaWaterways and Viking River Cruises appear very similar. Both of them sail basically all the major rivers in the world, from the Danube to the Mekong to the Nile, often even stopping in the same ports. They also both focus on the North American market.
That said, however, there are definitely some differences between AmaWaterways and Viking, which you will see in this AmaWaterways vs Viking comparison. Hopefully, all the information below will help you decide which company caters to your needs and wants best.
Prices and Such
When it comes to prices, there is hardly a difference to be found between these two river cruise lines. All along its cabin categories, from the most basic cabins to the suites, the prices are similar. Prices also include a minimum of one onshore excursion in every port, all onboard meals, Wi-Fi and cultural programs. Gratuities are not included, neither for crew members nor tour guides, but both of them suggest that guests pay 12 euros per day for the crew.
Check out this blog post that talks about how much Viking Cruises cost.
Itineraries
Combined, AmaWaterways and Viking sail virtually all major rivers on earth. A lot of their itineraries overlap, especially in Europe where they sail the Rhine, Moselle, Main, Danube, Elbe, Seine, Douro and more. They also both organize cruises in Myanmar and on the Mekong in Cambodia and Vietnam.
AmaWaterways has cruises on the Chobe River in southcentral Africa, which is prime safari and wildlife watching country. Viking, on the other hand, also sails Lake Nasser and the Nile in Egypt, China's Yangtse River and across the maze of canals, rivers, lakes and waterways in western Russia.
These exotic itineraries are usually combined with extensive land tours as well, to give you the best impression of the regions as possible.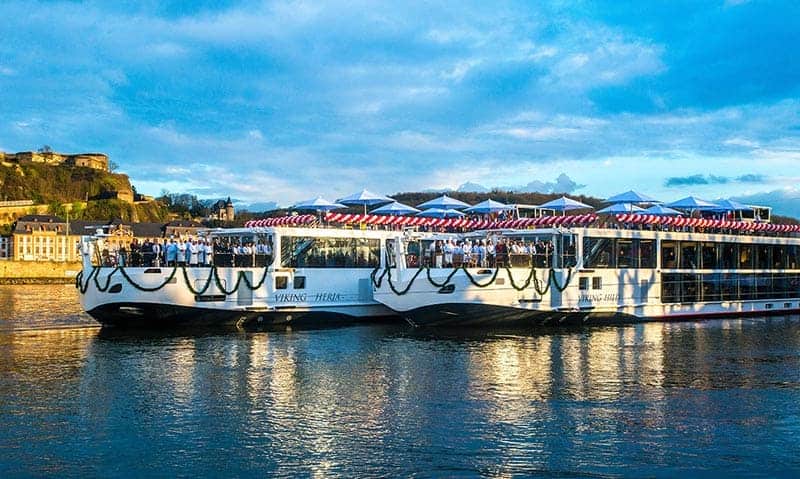 Ships and Cabins
AmaWaterways has 20+ ships in its fleet, most of which sail Europe's rivers. These European ships all feature similar designs and have room for approximately 164 people. Just like the Viking Longships, they are 443 feet long—they can't be any longer because they wouldn't fit in the locks on the Danube and Rhine rivers. The cabins on AmaWaterways' ships are vibrantly colorful, with bright patterns in pink and red. There's no lack of pillows while beautiful woodwork and marble tops add a bunch of class. Also, the cabin decorations are different from ship to ship.
On the contrary, all Viking ships are essentially essentially the same. The iconic Viking Longships all have the same design and are among the largest river cruise ships. The Viking fleet is also by far the largest river cruise fleet in the world. They can accommodate up to 190 passengers. That straight-forward, recognizable and modern design makes it a good cruise line for both first-time guests and returning passengers. Viking focuses on culture and destinations and less on interior décor. There are hardly any vibrant colors in the cabin and communal areas, but there is a lot of Scandinavian art all over the ships.
Excursions and Activities
As mentioned above, the prices of both companies include at least one onshore excursion in each port of call. These excursions are usually with a local guide who has a wealth of knowledge about the port, its history and culture, and speaks perfect English. If you'd like to join a more in-depth or specialized tour, you can often do that too for an additional fee. These premium excursions can include everything from glassblowing and cooking to dance lessons and winery visits.
Although the excursions and activities are quite similar across both cruise lines, this AmaWaterways vs Viking comparison would be useless if it didn't point out some delicate differences as well. Specifically, AmaWaterways offers the best and most varied port tours and visits. There are three levels of guided tours—gentle walking, general and active. Its ships also have bicycles on board, which guests can use to explore the ports.
Viking River Cruises, on the other hand, is unrivaled when it comes to extraordinary, memorable shore excursions. With its huge number of partners, they can offer unique trips such as truffle hunting and cognac tasting in France, or visiting a private castle.
Food
In terms of food, both AmaWaterways and Viking offer buffet breakfasts and lunches, along with a la carte options. A sit-down dinner takes places each evening at a previously determined time. Chefs use locally sourced ingredients as much as possible, giving guests a literal taste of the region they're sailing through. Beer, local wine and soda at lunch and dinner is included in the price.
Conclusion
AmaWaterways is a great option for people who are after an active river cruise, travel with young children and/or want a bit more amenities on the ships. Because of its minimalistic approach to things and its fewer onboard amenities, Viking is excellent for those of you who want a quiet atmosphere, an adults-only getaway and/or a serious cultural immersion.