9 Best Things to Do in Bora Bora
Last updated on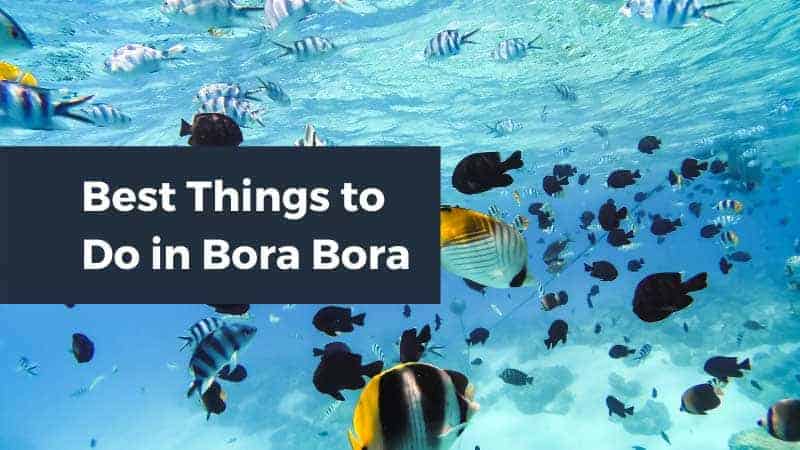 One of the planet's most exotic destinations, along with the Maldives, Turks and Caicos, and Hawaii, Bora Bora's name alone invokes images of swaying palm trees, azure waters, thatched-roof bungalows and sandy beaches. This tropical island in French Polynesia is absolutely heavenly—loosely translated, the name Bora Bora means "created by the gods" in old Tahitian.
Crystal-clear lagoons surround this island paradise, which are home to vibrant coral reefs, while tiny islets known as "motus" are scattered around it. This has been a popular destination among honeymooners, luxury travelers, adventure travelers and cruise fanatics for decades. And it's easy to see why. There are numerous amazing things to do in Bora Bora.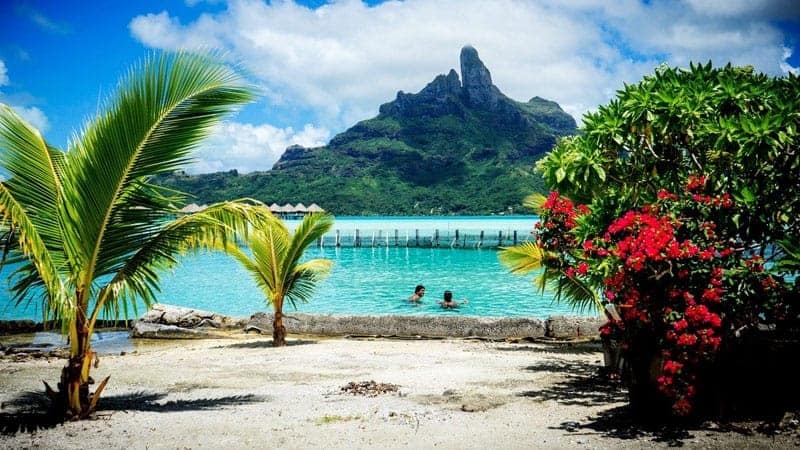 Cruise Lines That Sail to Bora Bora
Bora Bora is a keystone cruise destination in the South Pacific, an island that belongs on any itinerary. It's one of the 67 inhabited islands in French Polynesia and, along with nearby Tahiti, one of the region's most visited places.
If you'd like to visit Bora Bora on a cruise, these are some of the major cruise lines that sail there:
Best Things to Do in Bora Bora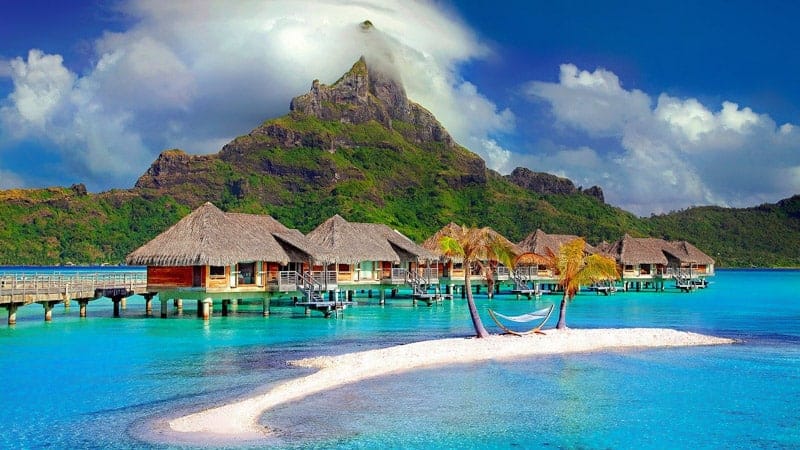 1. Go on an Aqua Safari Helmet Dive
If you'd like to explore Bora Bora's spectacular underwater world without getting your hair wet, you can go on a fun Aqua Safari Helmet Dive. The only thing you need is your swimsuit. The aqua helmet, which has an oxygen pipe, is provided by the tour company.
You will literally walk around the sandy sea floor with a guide, surrounded by colorful fish and magnificent corals. Not only do you not need a diving certificate for this fun activity on Bora Bora, but you don't even have to know how to swim!
2. Wind Down at Matira Beach
Bora Bora's largest public beach, Matira Beach is also arguably the island's best. Lined with inviting thatched-roof huts and tall palm trees, this sandy stretch of coastline is said to be among the most beautiful on Earth.
Kick back with a coconut drink (or cocktail!) on a beach chair and watch the waves gently lap against the sand in front of you.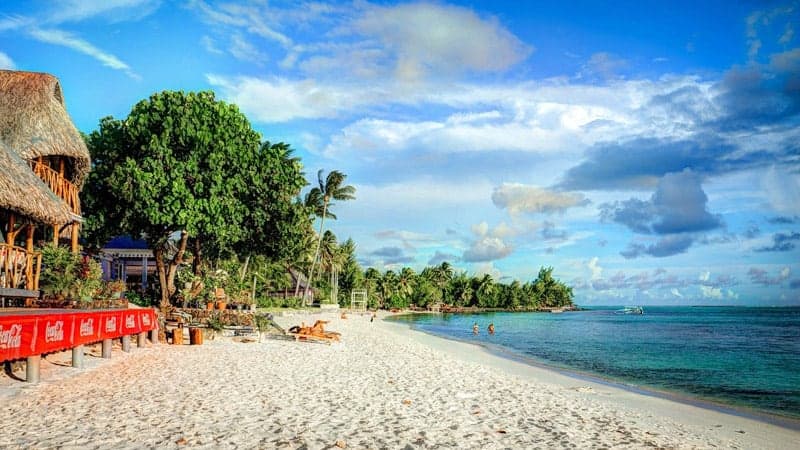 3. Snorkel With Stingrays and Sharks
A shark and stingray snorkel safari is one of the most popular things to do in Bora Bora. This 3-hour excursion takes you to a motu on the other side of the lagoon, where the boat will drop anchor and you'll have the amazing opportunity to swim among friendly stingrays and black-tip sharks. If you want to, your guide might even help you touch one of these harmless creatures.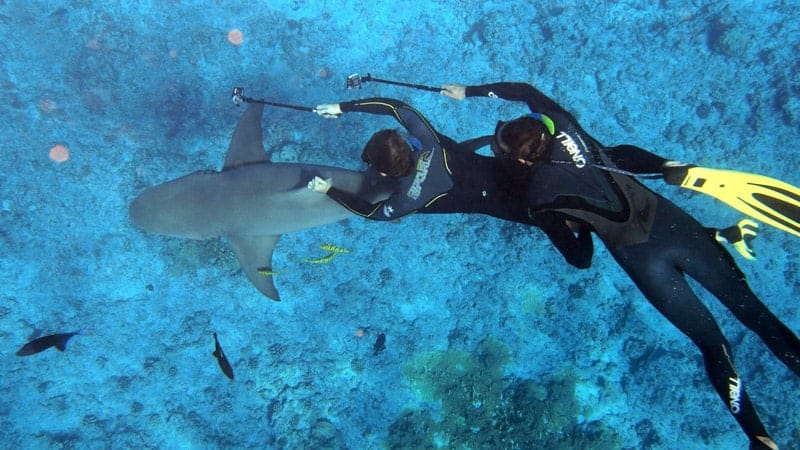 4. Soak Up World War II History
While the main attractions of Bora Bora are related to sunshine, blue water and tropical relaxation, the island also has a fascinating historic side. At Faanui Bay, you can see World War II relics in the form of coastal defense guns.
This is one of the many sites in the South Pacific where the U.S. Army stored supplies and guns. Since the guns occupy a strategic position overlooking the lagoon, the views are amazing.
5. Take a Glass-Bottom Boat Ride in Bora Bora's Lagoon
In case you'd rather stay dry and/or keep a barrier between you and the island's marine creatures, a glass-bottom boat ride is the perfect solution. This outing allows you to admire the vibrant sub-aquatic world of Bora Bora, while also enjoying spectacular views of Mount Otemanu. It's a fantastic low-key activity for those vacation days when you feel like just relaxing.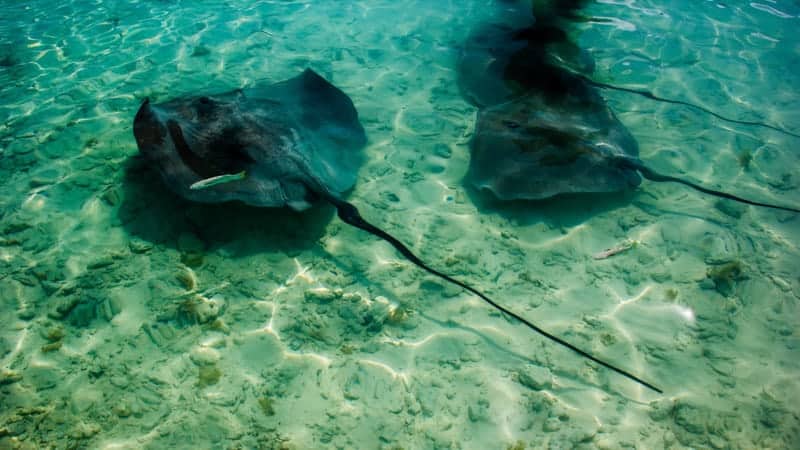 6. Enjoy Delicious Polynesian Cuisine
While many visitors to Bora Bora have dining packages at their resort accommodation or on their cruise ship, there's also a lot of local cuisine to be enjoyed. We recommend eating like a local while you're on this gorgeous French Polynesian island.
You'll find numerous locally owned food trucks, which are called "roulottes" and serve cheap and delicious dishes. Definitely try the poisson cru, which is a ceviche of ahi tuna marinated in lime juice and coconut milk—or firi firi, a Tahitian donut made with, you guessed it, coconut milk.
7. Hike Mount Otemanu
Towering 2,400 feet above the Bora Bora lagoon, Mount Otemanu is the island's highest mountain. If you're craving physical exercise after days of sunbathing, snorkeling and indulging in phenomenal Polynesian food, a hike up Otemanu will do the trick.
The remnant of an ancient volcano, this iconic mountain can, however, only be climbed up to its shoulder. The sheer steepness of its peak makes it inaccessible to regular hikers. That's not to say the views aren't worth it, though. In fact, they're nothing short of sensational, taking in the towns, lagoon, fringe islands and azure waters below.
8. Spend Some Time at Bloody Mary's
A world-famous watering hole in Bora Bora, Bloody Mary's is arguably the island's greatest restaurant. A visit is one of the best things you can do in Bora Bora. Not only is the food excellent and the floor covered in sand, it's also a popular place among celebrities.
Check the "wall of fame" in front of the restaurant for names of famous people who've had dinner or even performed at Bloody Mary's. They include Pierce Brosnan, Buzz Aldrin, Julio Iglesias, Ron Wood, Ringo Starr, Marlon Brando and dozens of others.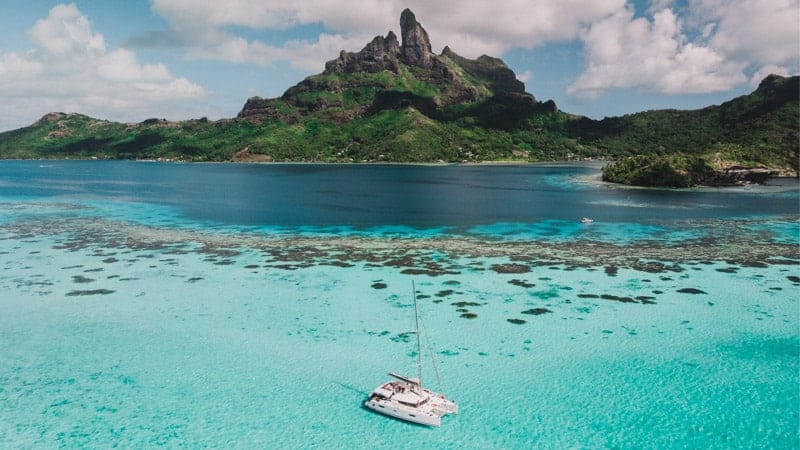 9. Sail Around Bora Bora by Catamaran
Because they have a shallow draft, catamarans are ideal vessels to explore the lagoons around the island. On a 3-hour catamaran cruise, you get to visit the shallower areas of the lagoon.
You'll pass along coral reefs, see the famous overwater bungalows, admire spectacular Mount Otemanu and access world-class snorkeling spots. On board the catamaran, you can kick back on a trampoline, unwind at the shaded salon and sip a refreshing beverage as you sail across the mesmerizing blue waters of Bora Bora.