3 Reasons Why You Should Cruise to Puerto Rico
Last updated on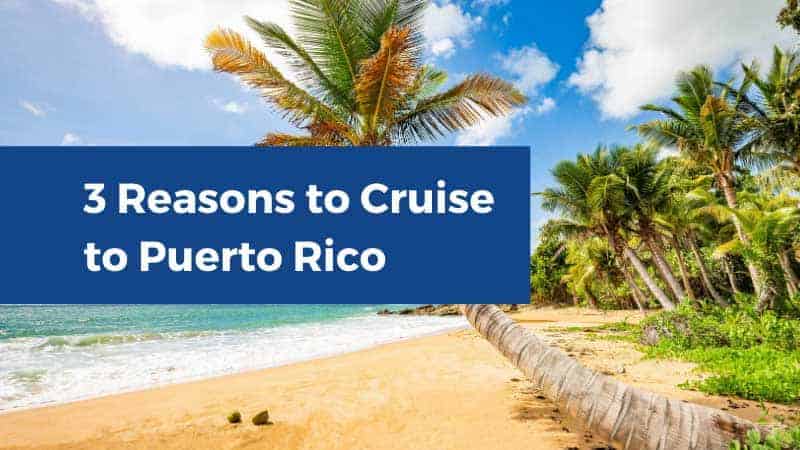 One of the cruise meccas in the Caribbean, Puerto Rico, is a popular starting or stopping point on numerous Caribbean cruise itineraries. The island's name literally means "rich port" in English, which is a strong indication for the beautiful nature and culture you'll get to enjoy on a cruise to Puerto Rico.
3 Reasons Why You Should Cruise to Puerto Rico
The island's capital, San Juan is home to the busiest cruise port in the entire Caribbean. The port hosts no fewer than 500 cruise ships of well over a dozen different cruise lines. This results in an annual passenger volume that approaches 2 million. There are, of course, a few reasons for that.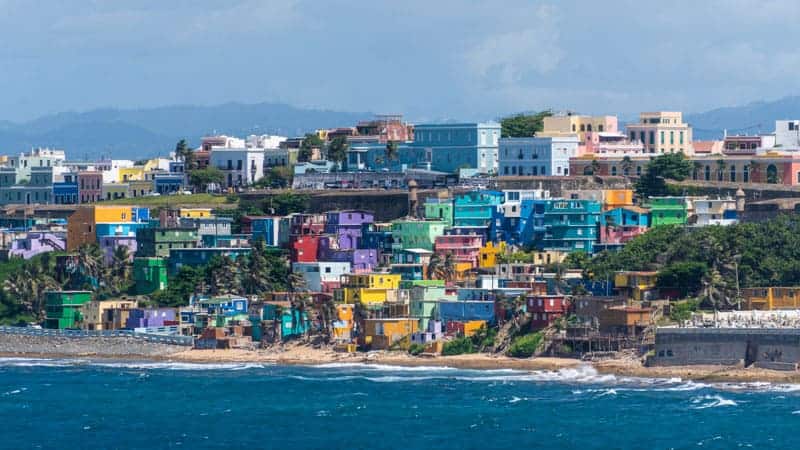 1. Puerto Rico Has Amazing Cruise Ship Facilities
The San Juan Cruise Port boasts some of the most extensive cruise ship facilities of all American ports. There are six different piers in two cruise ship terminals along Old San Juan's southern shore. One cruise terminal, the San Juan Bay Terminal, is closest to the Old Town, while the Pan American Terminal lies just across the bay and near the airport.
Where you'll ship will dock or departure depends on the cruise line or whether you're stopping by or leaving from San Juan. Your cruise booking should specify your specific port terminal and pier, which will help you plan your time in San Juan and Puerto Rico.
Old San Juan Terminal Piers
Pier 1: Modern terminal with 2-ship capacity, used by various different cruise lines
Pier 3: Renovated transit-only terminal with 2-ship capacity managed by Royal Caribbean
Pier 4: Modern 2-ship capacity terminal managed and mainly used by Carnival for its arrivals and departures
Pier 6: Wharf with 1-ship capacity used only on days with lots of cruise-ship traffic
Pan American Terminal Piers
Pier 1 & 2: Used by most cruise lines, except for Carnival, for departures, but sometimes also for arrivals and docking for the day. Two large cruise ships can dock here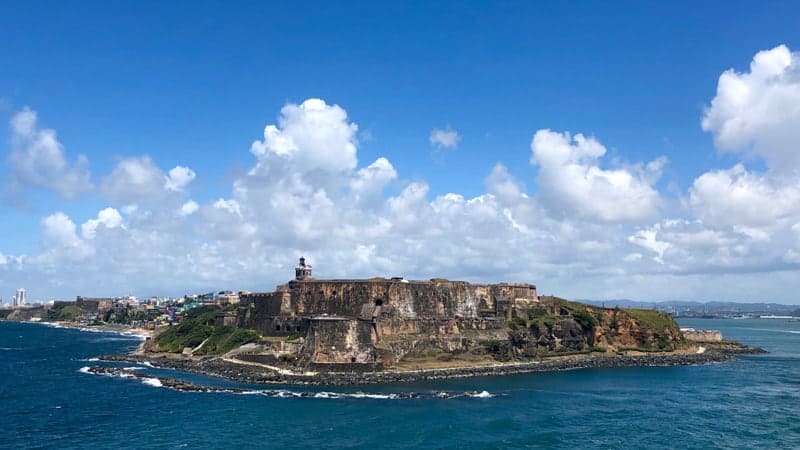 2. Puerto Rico Has a Wealth of Culture, History and Nature
A typical cruise to Puerto Rico lasts 3 to 7 days, with one day in Puerto Rico. This doesn't seem like a lot of time to explore the island—and it really isn't—but it does give you the opportunity to get a solid first taste of it.
You'll have to make some choices, though, because there's a lot to see and do in San Juan and the rest of the island. Popular San Juan boasts 500 years of modern history, from the arrival of Columbus and colonial times to the 21st century. In fact, founded in 1521, San Juan is one of the oldest cities in the United States.
If you only have one day in Puerto Rico, you'll probably limit your explorations to San Juan. Spend the day wandering through bustling Old San Juan, visiting old forts and walking along the city walls. A particularly popular and mention-worthy highlight is Castillo San Felipe Del Morro, an enormous 16th-century fortress that's been designated a UNESCO World Heritage Site. A convenient free trolley runs through the Old Town and past the forts.
Other attractions are the San Juan Cathedral, the Quincentennial Square, excellent restaurants and local boutiques. Note that although San Juan isn't a duty-free port, it's still a wonderful place to spend an hour of two browsing for clothes, jewelry, handicrafts and other souvenirs.
Nature lovers will relish the opportunity to visit El Yunque National Park, the only tropical rain forest in the U.S. national forest system. If you'd like to hit the beach, on the other hand, you'll find sun, sea and sand at nearby Condado, Isla Verde and Ocean beaches.
Another fun excursion is a visit to Casa Bacardi, the world's largest rum distillery.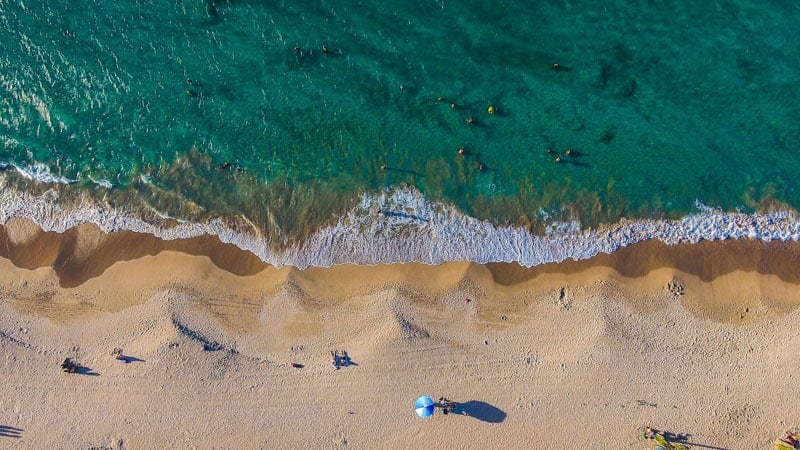 3. Americans Don't (Necessarily) Need a Passport to Cruise to Puerto Rico
Puerto Rico is a U.S. territory and, as such, American citizens don't necessarily need a passport to go on a cruise to Puerto Rico.
This, however, only applies to cruises that don't go to any other countries. If, for example, your Puerto Rico cruise also stops in ports in South America or another continent, you will need your passport to get in.
Moreover, U.S. citizens who fly to airports in another country to start their cruise to Puerto Rico there, also need their passport to board their planes.
When cruising to and from Puerto Rico, the Caribbean, Mexico, Bermuda and/or Canada from a U.S. port, you do not need a passport. These kinds of voyages are called "closed-loop cruises". You will need some other form of ID, such as a driver's license, though.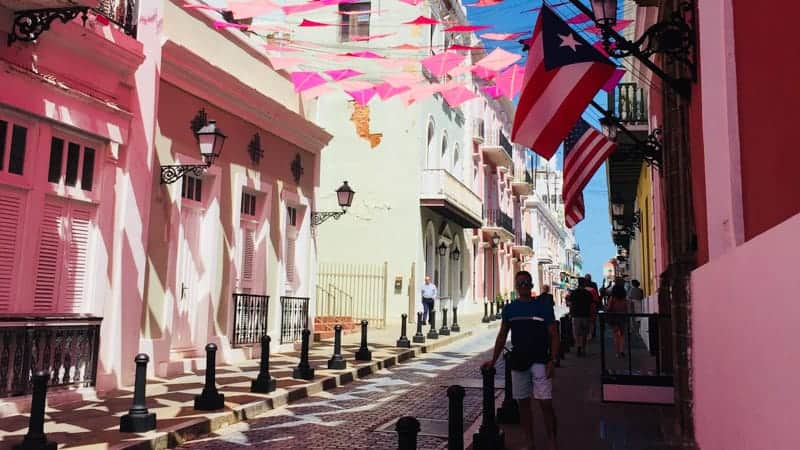 Cruise Lines That Sail to Puerto Rico
Several cruise lines have San Juan as their home port, while many more stop here on one of their Caribbean cruises. These are some of the major cruise lines that offer cruises to Puerto Rico:
Puerto Rico is one of the world's most popular cruise destinations and figuring out the perfect Puerto Rico cruise can be quite a challenge. One of our cruise specialists can help you find the ideal cruise to Puerto Rico for you.