Best Time of Year to Cruise to Bermuda
Last updated on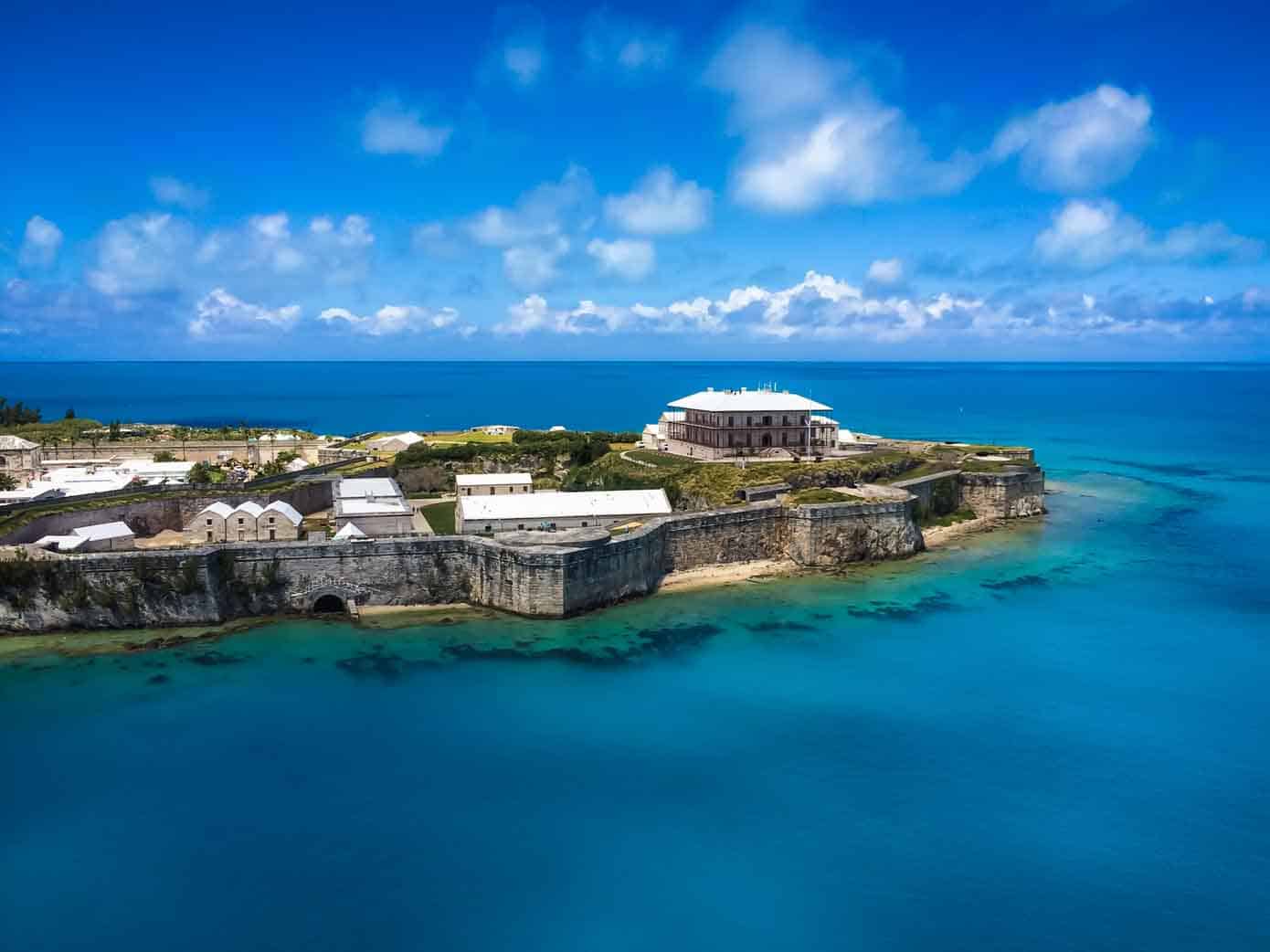 Few destinations invoke such an image of pure relaxation and ultimate holiday fun than Bermuda does.
This archipelago of small islands lies in a beautiful turquoise sea and allures visitors with its swaying palm trees, soft beaches and vibrant island culture.
Bermuda is a place where you can go on literally dozens of different outdoor adventures or simply laze your afternoon away on golden sands. You can connect with locals or attend one of the many annual festivals. No wonder that Condé Nast readers have voted Bermuda as the "best island in the Caribbean/Atlantic" no fewer than eighteen times since 1994. The archipelago is also considered to be one of the world's top destinations for adventure travelers.
It boasts a fascinating history as well.
If you're a history buff, you'll find plenty to discover in Bermuda, from museums to historic sites and colonial buildings. The first European explorer to reach the archipelago was the Spanish captain Juan de Bermudez, after whom the islands are named. He did so in 1503. Since its discovery, Bermuda has been under the rule of the English Virginia Company and, later, became a British colony.
Nowadays, it's still part of the British Commonwealth—it's the oldest remaining, and the most populous, Overseas Territory of Great Britain. Bermuda's capital, St. George, is the oldest continuously inhabited English town in the New World.
So, from beaches and adventure to history and culture, Bermuda has plenty to offer. I'm sure you're pretty intrigued by now, so let's continue with some useful information. More specifically, let's take a look at the climate in Bermuda and the best time of the year to cruise to Bermuda.
Going on a Boston to Bermuda cruise? Don't miss out on our exclusive Boston to Bermuda cruise deal.
An Overview of the Bermuda Climate
Even though Bermuda has a more northerly location than most people expect—it lies at the same latitude as the Carolinas in the United States—, it enjoys a most wonderful climate. This is not a Caribbean island, but it gets pretty close. Some would even say that it's better than the Caribbean.
Warmed by the Gulf Stream, Bermuda is home to more than its fair share of palm trees and subtropical vegetation. Its official climate is "humid subtropical", bordering a "tropical" climate. While the islands do experience a drop in temperature in the winter months of January, February and early March, there is no record of it ever freezing in Bermuda. The lowest-ever temperature was 43°F, or 6°C.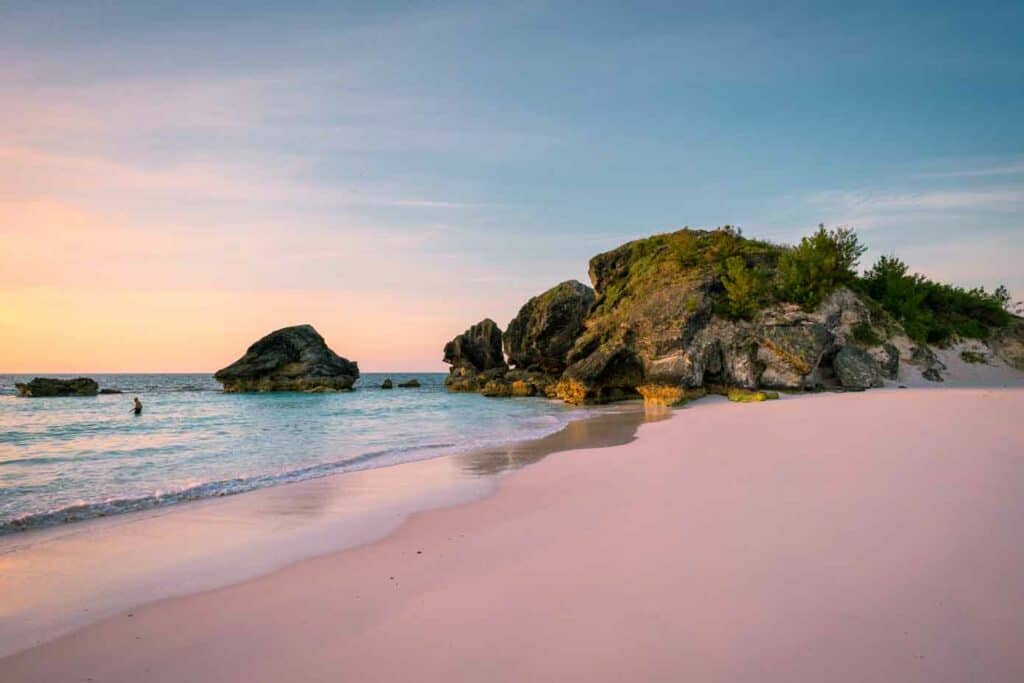 Summers can get quite hot in Bermuda, but they're never unbearable. The highest recorded temperature ever was 93°F, or 34°C. Peak summer temperatures typically don't exceed 86°F, or 30°C. Even if it does happen to get hot in the afternoon, you can simply seek refuge in the sea and wait until the evening sea breeze brings in some welcome cooling.
In other words, the weather is Bermuda is always pleasant, never uncomfortable.
One thing to know, though, is that Bermuda lies in the so-called "hurricane belt". Its location in the warm Gulf Stream puts it directly in the path of hurricanes in the westerlies. The official hurricane season runs from June 1 through November 30. However, because of the archipelago's tiny size, landfalls are exceptionally rare. Moreover, hurricanes usually have weakened by the time they reach Bermuda. This is simply something to be aware of, nothing to worry about.
In case a hurricane does hit, it's also pleasant to know that most hotels have "hurricane guarantees", which includes refunds or complimentary stays in the future.
Besides the occasional hurricane—once every decade or so—Bermuda boasts incredible weather. A constant sea breeze cools things down in summer while a plethora of sunshine keeps everything pleasantly warm during winter. Rainfall is nothing to worry about.
Unlike the Caribbean islands, Bermuda does not have a wet season, which is why many prefer it over the Caribbean. Heavy downpours typically happen in summer, and then often only overnight, lasting only a couple of hours. Sunshine is available in abundance, basically all the time.
It's this year-round fantastic weather that makes Bermuda such a superb outdoor adventure destination. The winds make for great (wind)surfing while dry and sunny weather allow you to explore as much and as far as your heart desires.
So, What's the Best Time of the Year to Cruise to Bermuda?
Depending on what you're after and your budget, there are two periods in the year that are ideal for visiting Bermuda.
The first one, often regarded as the absolute best time of the year to cruise to Bermuda, runs from the beginning of March to late-April. These two spring months are great for budget travelers. As the temperatures climb out of their annual low, you'll be able to enjoy more than comfortable spring weather. This is a quiet time of the year, though, so prices are low. Additionally, this time of year is when some of the most festive events take place in Bermuda. Particularly Easter is a holiday you don't want to miss—you'll see islanders head to Horseshoe Bay to fly their colorful handmade kites.
The second best time of the year to cruise to Bermuda is from May through September. This is by far the warmest period, roughly correlating with the summer season. If you're looking for a beach vacation, this is when you'll want to visit Bermuda. However, as this is the absolute high season, prices skyrocket. Some luxury hotel rooms on the islands go for more than $1,000 per night! With demand as high as it is in summer, you need to book your cruise and, if applicable, onshore accommodation far in advance. You should also keep in mind that you won't be alone. Beaches will be crowded, restaurants filled.
The very best time to cruise to Bermuda is late spring—April and May. This period offers the best of everything. Temperatures, both air and water, are unquestionably comfortable enough for outdoor activities as well as swimming while the prices for rooms and excursions haven't yet reached their peaks.
More: See the Best Time to Cruise To…