The largest state in the U.S., Alaska is huge in size but also in cruise opportunities. If you'd like to venture beyond the "cruise classics" like the Caribbean, Hawaii or Mediterranean, why not head up north and explore coastal Alaska on one of this year's best Alaska cruises.
Best Alaska Cruises Available Right Now
A cruise to Alaska is all about epic coastal landscape and bustling fishing ports, iconic wildlife and perhaps a taste of life at America's last frontier. You'll sail to places such as the Inside Passage and see monumental Glacier Bay, visit harbor towns like Skagway and Juneau, and head to Anchorage, the perfect base for excursions to some of the U.S.' most magnificent national parks.
If this all sounds like fun to you, go ahead and check out the following best Alaska cruises on offer right now. Note, however, that the Alaska cruise season is shorter than other destinations'. It runs roughly from May through September. Check out our blog post elaborating on the best time to cruise to Alaska.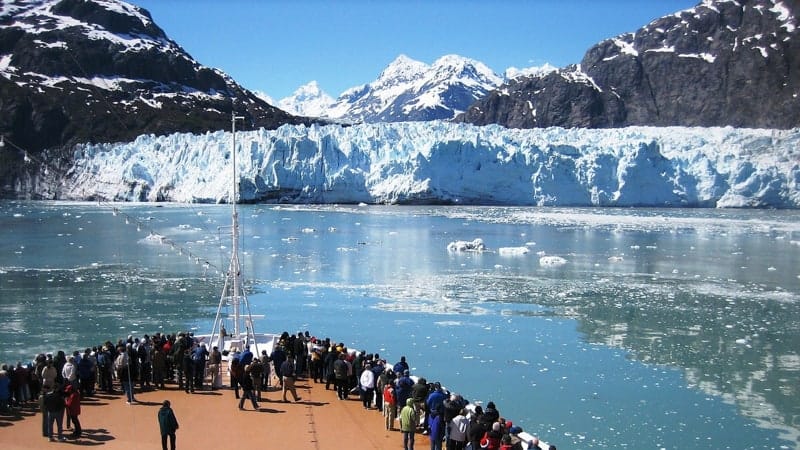 Alaska Tracy Arm Fjords Cruise – Celebrity Solstice
This marvelous eight-day cruise starts in Seattle and takes you through the iconic Inside Passage to Skagway. You'll explore basically the entire Alaska panhandle, which is home to some of North America's most breathtaking coastline, including deep fjords, calving glaciers, and coastal mountains and forests.
This is one of the best Alaska cruises if you have a week's time. There are sixteen sailing dates, running from late-May through early-September.
From/to: roundtrip from Seattle
Duration: 8 days, 7 nights
Ports of call: Victoria, Ketchikan, Tracy Arm Fjord, Juneau and Skagway
Highlights: Fresh salmon and totem pole collections, Tracy Arm Fjord and Sawyer Glaciers, historic Skagway, Inside Passage and colonial Victoria
Price: from $1,109

Alaska Highlights Cruise – Norwegian Bliss
While this itinerary is virtually the same as the one we mentioned above, what sets this Alaska Highlights Cruise apart is the ship itself. Norwegian Bliss is the youngest addition to the Norwegian fleet, an enormous ship—the largest one to sail to Alaska—and custom built specially to offer the best Alaska cruises.
Because of its sheer size, it offers all possible entertainment types and amenities you can expect on a cruise ship. No other ship in the region comes close. There is an onboard racetrack, laser tag, Starbucks, superb restaurants and Broadway-quality theater.
From/to: roundtrip from Seattle
Duration: 7 days, 6 nights
Ports of call: Ketchikan, Juneau, Skagway and Victoria
Highlights: Native American culture, seafood, historic Juneau, Glacier Bay National Park and gold rush history in Skagway
Price: from $1,399

Northbound Alaska & Hubbard Glacier Cruise – Radiance of the Seas
The northbound Alaska & Hubbard Glacier Cruise goes beyond most Alaska cruises' itineraries. Instead of turning back to its port of departure, it continues north. You'll travel from Vancouver in British Columbia to Seward, Alaska, along a long stretch of stunning subarctic coastline.
This seven-night cruise takes in most of the iconic highlights in coastal Alaska. From Ketchikan's totem poles and salmon fishing to the Klondike Gold Rush days in Skagway, the massive Hubbard Glacier and the wildlife of the Katmai peninsula, you'll find it all (and more) on this awesome Alaska cruise.
Note: you can also do this cruise in a southbound direction.
From/to: Vancouver to Seward
Duration: 8 days, 7 nights
Ports of call: Inside Passage, Ketchikan, Icy Strait Point, Juneau, Skagway, Hubbard Glacier
Highlights: Totem poles collections, Klondike Gold Rush history, enormous glaciers, seafood and wildlife
Price: from $583
Ultimate Glacier & Fjord Adventure Cruise – Seabourn Sojourn
If you're looking to get pampered and spoiled during your cruise to Alaska, there's arguably no better cruise line than Seabourn, one of the world's top luxury cruise lines. Combining expedition-style travel with extreme luxury, their Alaska cruises offer a more in-depth, intimate and immersive experience than many other cruises.
This 14-day Ultimate Glacier & Fjord Adventure takes in all major highlights from Seward to Vancouver. And there are plenty of those, from Kenai Fjords National Park to Icy Strait Point and Tracy Arm, from Juneau and Sitka to Ketchikan. In terms of destinations, this is one of the absolute best Alaska cruises you can do this season.
From/to: Seward to Vancouver
Duration: 14 days, 13 nights
Ports of call: Icy Strait Point, Haines, Juneau, Sitka, Wrangell, Ketchikan, Rudyerd Bay, Prince Ruper, Klemtu and Alert Bay
Highlights: numerous glaciers, national parks, pioneering history, fantastically fresh seafood, straits and channels, historic towns
Price: from $3,299
We've chosen these as the best Alaska cruises to do this year, but note that there are many more. Use these suggestions as a starting point—they all truly are among the very best you'll find—but we also encourage you to browse the respective cruise line websites for more options and comparisons.